Petition seeks former CID head's safety and compensation of Rs. 3 m
---
By S.S. Selvanayagam
---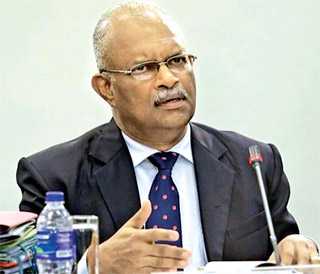 Former Criminal Investigation Department (CID) Director Shani Abeysekara
---
Former Criminal Investigation Department (CID) Director Shani Abeysekara (59), who is incarcerated in Mahara Remand Prison, yesterday filed a Fundamental Rights violation petition, seeking his safety and compensation of Rs. 3 million.

Attorney-at-Law Gowry Shangary Thavarasha filed the petition on his behalf in the Supreme Court.

She cited IGP C. D. Wickramarathne, ASP Neville Silva, and IP S. P. D. J. Nishantha, as well as Senior DIG Deshanbandu Tennakoone and the Attorney General as Respondents.

Petitioner states that she makes this application on behalf of Abeysekara, as he is presently in detention, and has also contracted COVID-19 whilst in detention, and hence unable to grant a proxy to an Attorney-at-Law or instruct Attorneys-at-Law.

The petition gives details of Abeysekara's illustrious career from the time he was assigned to the CID in 1999, including promotions he received and key cases he was instrumental in investigating. These included the attempted murder of former President Chandrika Bandaranaike Kumaratunga in 1999, the Katunayake International Airport attack by the LTTE in 2001, murder of Deputy Superintendent of Customs Sujith Prasanna Perera in 2004, and the murder of Yvone Johnson at Royal Park Condominium in 2005.

He also investigated the attempted murder of (former) Secretary of Defence and incumbent President Gotabaya Rajapaksa in 2006, the kidnapping and disappearance of 11 youth by Naval Intelligence personnel in 2008/2009, the 'Angulana double murder' case in 2009, the kidnapping and disappearance of Prageeth Eknaligoda in 2010, and the abduction and contract killing of businessman Mohammed Shiyam. He also supervised the investigations into the Central Bank bond scam, murder of journalist Lasantha Wickrematunge in 2009, abduction and torture of journalist Keith Noyahr in 2008, abduction and assault of journalist Poddala Jayantha in 2009, the assault of journalist Upali Tennakoon in 2010, and the murder of rugby player Wasim Thajudeen in 2012.

In the petition Abeysekara contends continued detention hinders his ability to effectively challenge his interdiction and arbitrary transfer, and as such, the present investigation, which has resulted in him being placed in remand custody, is an attempt by the Respondents and others unknown to him to discourage him further and defeat his fundamental rights.

In the totality of the circumstances, the Petitioner stated that Abeysekara's arrest by the first to fourth Respondents is in violation of his fundamental rights guaranteed under Article 13(1) and 12(1) of the Constitution.

The Petition seeks a declaration that his Fundamental Rights have been infringed. It also pleads for the court to direct the first Respondent to provide adequate security to him inter alia, if he is taken out of the Remand Prison, for investigations or any other purposes such as recovery of weapons or productions. It is also asking the court to grant him a compensation of Rs. 3 million.