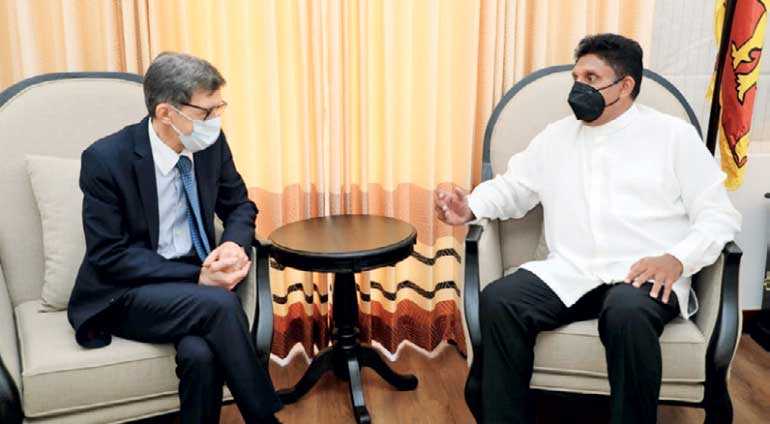 Opposition Leader Sajith Premadasa speaking with Russian Ambassador Yury Materiy at the Opposition Leader's office yesterday
Opposition Leader Sajith Premadasa yesterday met with the Ambassador to the Russian Federation Yury Materiy to seek further assistance for Sri Lanka to combat the worsening COVID-19 crisis.

The Samagi Jana Balawegaya (SJB) leader met the top Russian diplomat in Colombo at the Opposition Leader's office last afternoon.

During the discussion, Premadasa stated that Sri Lanka was facing a 'third wave' of the COVID-19 pandemic and was in urgent need of international assistance to manage the situation.

"We need support for the establishment of mobile field hospitals, PCR testing capability on a large scale, we desperately need fully-equipped ICU beds, ventilators and other medical equipment needed to combat the COVID-19 situation," Premadasa told Ambassador Materiy.

Premadasa stated that the Opposition was trying to encourage more assistance from the international community during Sri Lanka's time of need.

"We are fully behind the national effort to contain the COVID-19 virus," Premadasa said, adding there was a national scarcity of ICU beds with its full complement of life-saving equipment.