Opposition Leader says people are now unable to cope with life itself due to stressful and pressurising situations
Asks Govt. to assure in Parliament that electricity tariffs will not be increased
President responds that an electricity tariff increase is inevitable and tough decisions must be made in this situation
---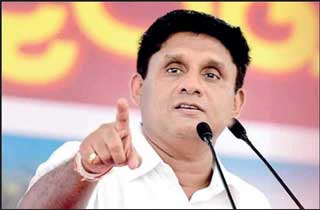 Opposition Leader Sajith Premadasa
---
Opposition Leader Sajith Premadasa called on the Government to halt all its attempts to increase the electricity tariff. "The Cabinet has informed the country that the electricity tariff will be increased on two occasions. This will severely affect the examinations of school children," he said.
"The people are now unable to cope with life. A number of stressful and pressurising situations have been created. Though the leaders are unaware the people are suffering. They are in hunger," he added.

Premadasa made these comments while addressing Parliament yesterday.

The Opposition Leader also pointed out that the Public Utilities Commission of Sri Lanka Chairman has also challenged the announcement claiming the PUCSL is not aware of a tariff increase and must be consulted on the matter before implementation. Premadasa called on the parties to the Government to assure the house that steps to increase the electricity tariff will be stopped.

However, President Ranil Wickremesinghe told Parliament that a tariff increase is inevitable.

"Authority of revising electricity tariffs is vested with the Power and Energy Minister and the Cabinet as per the Public Utilities Bill and the Electricity Act. No one likes to increase power tariffs but we have to do it. We have to make unpopular decisions for the sake of the country. Sri Lanka is in a crisis today as a result of our failure to make unpopular decisions. We have to find Rs. 400 billion to save the Electricity Board," he said.

Wickremesinghe also informed the Parliament that the Ceylon Electricity Board (CEB) has incurred a loss of Rs. 300 billion from 2013 to date. "Even though electricity tariffs were increased in August this year, the CEB is expected to incur a loss of Rs. 151 billion," he noted.

The President also noted that international agencies and other countries will not offer Sri Lanka any financial assistance if it continues to show losses and fails to show any form of income.

"The failure to take action since 2013 has resulted in the current situation of the CEB and the country. We have to take unpopular decisions for the betterment of the nation. Therefore, it has been decided to go ahead with the revision of electricity tariffs even though we do not like the idea," he said.