Calls on public to stay home and adhere to virus guidelines immediately
Says doctors have observed higher numbers of infections among young people and children
Warns rapid infections could lead to hospitals being overrun
People with respiratory illness urged to take PCR test and seek medical advice
---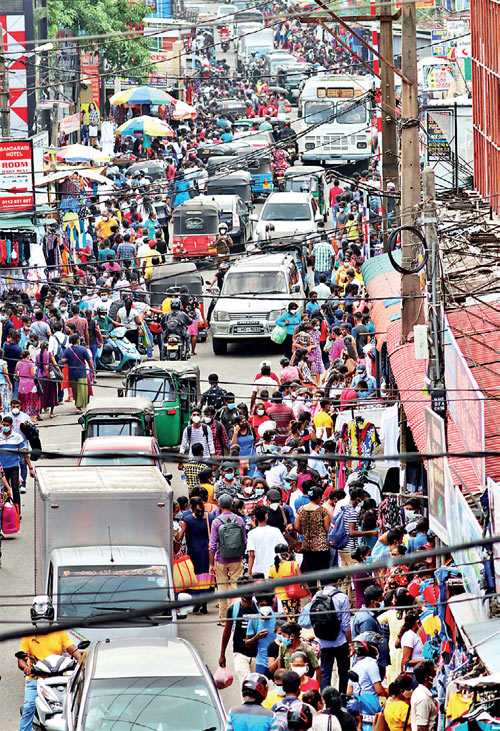 The Sri Lanka Medical Association (SLMA) yesterday warned the public of an imminent third wave of COVID-19 and called for all possible precautions including avoiding crowded places, social distancing and staying at home to be immediately implemented.

The SLMA issuing a statement along with its Intercollegiate Committee of all the Medical Professional Organisations said it wanted to 'desperately warn' the general public of the imminent threat of a third wave of the COVID-19 outbreak over the next three weeks or so and the absolutely essential need to take all possible precautions to avoid contracting the disease.

The President and the Members of the SLMA warned the general public that there is a rapid increase in the number of COVID-19 positive cases, as well as the number of patients requiring hospital admissions, oxygen and treatment in Intensive Care Units.

Doctors have also observed an increase in the number of positive reports at the lab settings. The numbers detected at random checks in the Colombo municipal limits also have increased.

"Doctors have observed patients presenting with atypical symptoms and rapid deterioration leading to serious clinical conditions. Possible rapid transmission also has been suspected. Presentation of younger patients with more serious symptoms also has been noted. The doctors working at the Lady Ridgeway Hospital, also have observed the rapidly increasing number of positive cases of COVID-19 among children."

Presence of a new variant with possible rapid transmission also was suspected following preliminary laboratory studies. The possible new variant was suspected to be a new mutation of already available Sri Lankan variant or a virus introduced anew from another foreign country.

"It is important for every citizen to understand the potential disastrous consequences of a third wave, especially with a possible new virus variant. If the new variant is able to exhibit features of rapid transmission, there will be a flood of COVID-19 cases leading to a greater number of seriously ill patients, potentially exceeding the capacity of hospitals to handle them. This is likely to lead to more deaths," the statement added.

The new variant may affect the younger population even more than the older population leading to more deaths of young people in their prime of life. As such, it is pertinent and vital that all possible stringent public health measures are strictly adhered to, by all citizens, to mitigate contracting the COVID-19 infection. In this regard, it would be absolutely essential to wear masks, maintain one metre or more of social distancing and frequent washing of hands. It is crucial to keep away from crowded places.

The best thing to do is to leave home only for essential needs, while adhering to all public health precautions.

Furthermore, public education to alleviate stigma involved with the diagnosis of COVID-19 also is important. This virus infection should be treated like any other illness. As the severity of the infection with a new variant is not all that familiar to the medical profession, all members of the public with respiratory symptoms are strongly recommended to seek medical advice followed by a COVID-19 test.