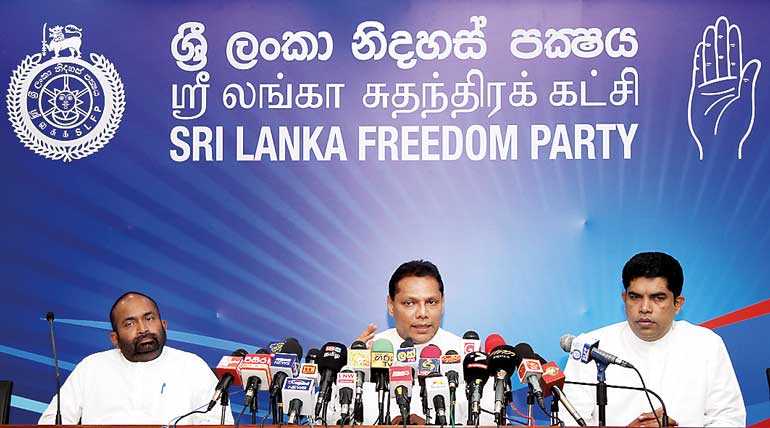 SLFP says increase in number of Samurdhi beneficiaries is proof Govt. policies have failed
Says Budget has set ambitious revenue targets
Says indirect taxes will increase burdening the people


The budget presented by the United National Party Government is a mere stop gap measure focused on welfare aimed at elections lacking in long term policy measures while proving that their policies have ruined country's economy, Sri Lanka Freedom Party said yesterday.

"They want to increase the number of Samurdi beneficiaries by 600,000 more. This means that rural people have actually fallen into poverty during their rule. First they wanted to do away with this, now they are saying they are increasing the numbers, that means more people are dependent on welfare as their economic situation has dropped," Party General Secretary Dayasiri Jayasekara claimed speaking to media at the weekly media briefing.

Dissecting the Budget 2019 presented by Finance Minister Mangala Samaraweera on Tuesday, party stalwart Ranjith Siyambalapitiya claimed that the Government has only put together a welfare budget without any policy measures.

"What our country needs is long term, midterms and long term proposals for economic development, discuss economic issues and policies. But they haven't done this at all," Siyambalapitiya said.

The Budget 2019 has ambitious revenue targets with aims to increase the revenue from tax by over 20% with an increase of Rs. 365 billion, Siyambalapitiya said noting that the increased will be earned through indirect taxes imposed on goods and services.

"The tax burden on an individual will increase by Rs. 16,500 per person. This will not be earned from taxes on arrack and casinos but by indirect taxes," he said.

Siyambalapitiya also noted that although sweeping statements have been made on different development programs and schemes to be implemented, the monetary allocations for the program is insufficient for them to be effective. Taking examples of the loan schemes for the students and Ran Mawatha road development programs, the SLFP senior said that the money allocated for the programs are not enough.

"Only 1600 students will be able to obtain the loan given for higher education and only 100 km of roads will be completed from the money allocated," he claimed.

However, he noted that the UNP has finally changed their policies to grant salary increases to Government servants, increase pension payments, and to pay welfare allowances to the vulnerable groups, when the party had worked on policies to eliminate those items during their previous rules.