By Shailendree Wickrama Adittiya

Sri Lanka Freedom Party (SLFP) yesterday conceded that they were a secondary party in the coalition between the SLFP and Sri Lanka Podujana Peramuna (SLPP).

SLFP General Secretary Dayasiri Jayasekara said that they expect to work together as the Sri Lanka Nidahas Podujana Peramuna at future elections.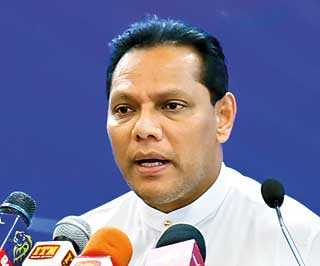 SLFP General Secretary

Dayasiri Jayasekara


"In alliances we have formed so far, it was the SLFP that was the main party," he said, explaining that the main party usually overpowers the secondary parties. "The SLPP is currently doing this," he added.

Jayasekara, while speaking to the media yesterday, he further added, "The SLFP has become a secondary party, so we now have to get used to working with the primary party for the betterment of the country."

He went on to say that the United People's Freedom Alliance met recently and have established a new executive committee. "The next step is to use the name Sri Lanka Nidahas Podujana Sandhanaya instead of the United People's Freedom Alliance and to change its symbol," he said, adding that a number of issues have cropped up regarding the symbol but that the SLFP were not too concerned about it.

"There is a view that the SLPP symbol of the flower bud will be made the symbol of the alliance. If this happens, the SLPP will not have a symbol anymore," Jayasekara said, adding, "Whenever the SLFP has formed an alliance in the past, we have used another symbol, like the chair and betel leaf, because the symbol of the SLFP must be protected."

The SLFP General Secretary went on to say that the President and Prime Minister as well as SLFP Leader Maithripala Sirisena are holding discussions to discuss the matter. He emphasised, however, that it was the SLPP and not the SLFP that would lose their symbol, which is very much part of the party's identity, if the flower bud is made the symbol of the coalition.

Jayasekara also said that, despite contesting at elections as an alliance, all SLFP Pradeshiya Sabha candidates and members will be required to agree to a SLFP code of ethics. Violating these ethics can lead to disciplinary action and ministers may even risk expulsion from the party.

In response to a question on the disciplinary action to be taken against former Minister A.H.M. Fowzie, Jayasekara said that a final decision against Fowzie and four other parliamentarians – namely S.B. Dissanayake, Dilan Perera, Wijith Wijayamuni Silva, and Lakshman Yapa Abeywardena – as well as a number of Pradeshiya Sabha members, will be taken on 18 January.