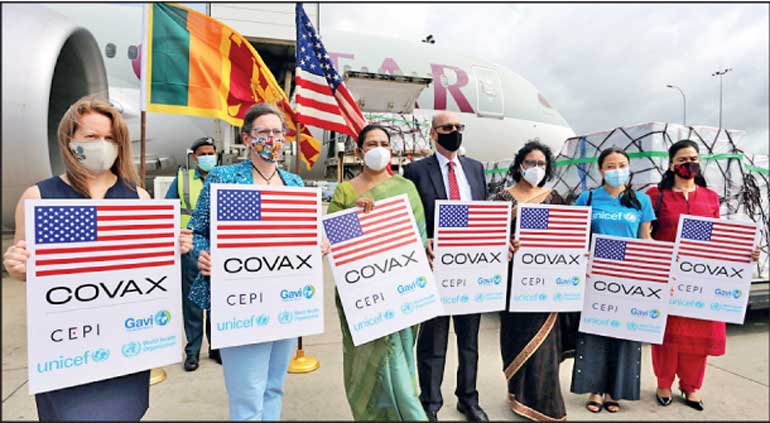 Sri Lanka yesterday received 1,500,100 doses of the Moderna COVID-19 vaccine from the COVAX facility, increasing the number of COVID-19 vaccines used in the country's COVID-19 immunisation program to five.

The vaccines were donated by the United States, and this is the second batch of vaccines Sri Lanka has received through the COVAX Facility. In March, Sri Lanka received 264,000 doses of the AstraZeneca COVID-19 vaccine.

"We believe we can fully vaccinate the entire population in two to three months. The 1.5 million doses of the Moderna COVID-19 vaccine donated by the United States through the COVAX Facility will be rolled out as 750,000 first doses and 750,000 second doses," Health Minister Pavithra Wanniarachchi said.

According to Pharmaceutical Production, Supply and Regulation State Minister Prof. Channa Jayasumana, the Moderna vaccine doses will be used in the Kandy District.

Sri Lanka has thus far received over 10 million COVID-19 vaccine doses which were either purchased by the Government or were donated.

This includes 7.1 million doses of Sinopharm, with the Chinese Embassy in Sri Lanka yesterday tweeting that two million vaccine doses can be expected on 22 July, in addition to which the Chinese Government will donate 1.6 million doses of Sinopharm in the coming weeks.

Sri Lanka has also received 52,000 doses of Pfizer, 180,000 doses of Sputnik V, and 1,264,000 doses of AstraZeneca.

In addition to this, the National Medicines Regulatory Authority (NMRA) yesterday approved the Sinovac COVID-19 vaccine for emergency use in Sri Lanka.