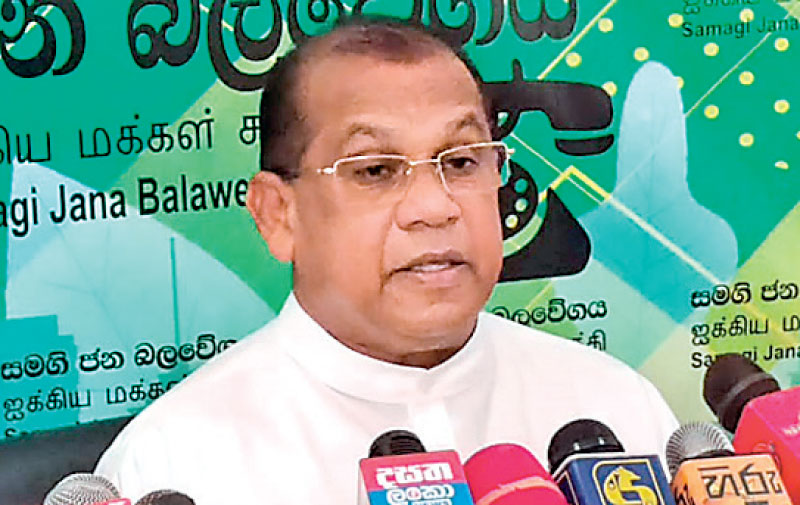 SJB Secretary MP Ranjith Madduma Bandara
---
Hands over Anti-Corruption Draft Bill over to Secretary General of P'ment by MP Ranjith Madduma Bandara
Blames country's economic crisis on rampant fraud and corruption
Says party decided to present it as Govt. has no interest in stopping corruption
Seeks help from all parties including Govt. to get bill passed
---
Samagi Jana Balawegaya (SJB) General Secretary MP Ranjith Madduma Bandara has handed over a Private Member's Bill to tackle corruption.

The bill titled, the Anti-Corruption Draft Bill, was presented by Madduma Bandara to Parliament Secretary General Dhammika Dasanayake yesterday.

Holding a press conference thereafter, Madduma Bandara said Sri Lanka's current economic crisis is a result of fraud and corruption that took place in the country. "We hoped the Government would take necessary action but it was not to be. Therefore, I have now presented this bill to the secretary general of the parliament," he said.

According to Madduma Bandara, the public are well aware that the country's politicians have stolen billions leaving the country bankrupt. "Countries such as Singapore have developed as there is no room for corruption. Lee Kuan Yew of Singapore took strict action against fraud and corruption. However, our President who was not elected by the people is now saying we must forget the past, " he noted. "Is he asking us to forget the dollars that are in offshore accounts as revealed by the Pandora papers? Is he asking us to forget the Sugar scam?" the MP asked.

Madduma Bandara also pointed to the Justice Minister's revelation in parliament about the inaction of the Commission to Investigate Allegations of Bribery or Corruption (CIABOC). According to him, it is evidence enough that the Government will not take action against the corrupt in Sri Lanka. Noting that Sri Lanka has now fallen to the 106 spot from 92 in the World Corruption Index, Madduma Bandara said it is clear that corruption and fraud are on the rise in Sri Lanka.

"Therefore, we as a party decided to introduce anti-corruption laws that would seek to recover stolen public monies. The good governance Government filed cases against a large number of politicians but the new Government released them of all charges. It appears there are gaps in the law. That is why it must be amended to ensure the corrupt cannot slip through the gaps. This is why we presented the Private Member's Bill," he said.

According to Madduma Bandara, the support of the Government in this endeavour is also welcome. "In fact, we request the support of everyone. I believe this will help make Sri Lanka strong again," he added.