Pooh-poohs claims of some to have been instrumental in forming SJB
Says SJB was born out of collective decision
Claims all members contributed to making it main Opposition party in SL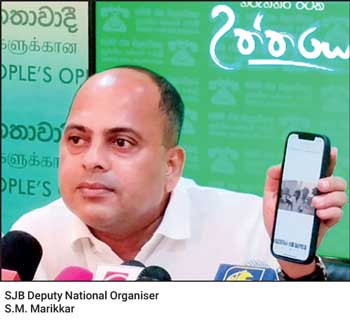 Samagi Jana Balawegaya (SJB) Deputy national organiser S.M. Marikkar says the party does not belong to one lone person.

Noting that certain individuals are attempting to lay claim to the party and its beginnings, Marrikar noted that the party was created and Sajith Premadasa was appointed as its leader in order for everyone to emerge victorious. Marikkar made these comments at a press conference held at the Opposition Leader's office in Colombo yesterday.

"Sajith Premadasa was brought forward because everyone wanted to win. We created the party and went to the grassroots levels to make it the main Opposition party. We voiced our protest in Parliament. Everyone contributed to these efforts including MPs and its organisers. If anyone thinks he alone did all of this then he is miserably mistaken," the MP said.

The MP said he has not won the people's support by following one person but instead by working for the people. He said the SJB is not just its leadership but also a team of persons.

"Though Ranil Wickremesinghe or those with his have no network that is of no concern to us. No one person has created the SJB. Neither Mujibur Rahman, Harin Fernando, Nalin Bandara nor Madduma Bandara has created this. Not even Premadasa," he said, adding that the formation of the SJB and its workings was a collective decision.