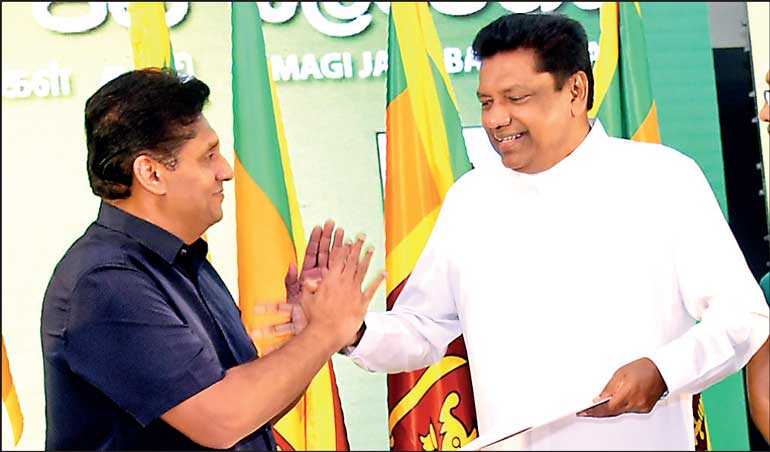 Samagi Jana Balawegaya Leader Sajith Premadasa and New Lanka Freedom Party Leader Kumara Welgama join hands in agreement during the Samagi Jana Balawegaya symbol launch yesterday in Colombo - Pic by Ruwan Walpola
---
SJB seeks to revolutionise SL political culture under new symbol: Madduma Bandara
Veteran ex-SLFP politician joins SJB ranks
Govt. unprepared to face COVID-19 pandemic despite early warnings: Sajith
The Nawa Lanka Freedom Party (NLFP) yesterday joined the Samagi Jana Balawegaya (SJB) during the alliance's symbol launch.

The NLFP, a new political party recently established by veteran SLFP politician Kumara Welgama, joined the Sajith Premadasa-led SJB at a function held yesterday at Water's Edge to launch the SJB election symbol, the telephone.

The Launch saw key stakeholders of the SJB attending the launch with Patali Champika Ranawaka, General Secretary Ranjith Madduma Bandara, Rishad Bathiudeen, AHM Fowzie, Palany Thigambaram, Eran Wickramaratne, Dr Harsha de Silva, Harin Fernando, and Sujeewa Senasinghe.

Speaking at the launch, Welgama said he was disappointed with the way the 52-day Mahinda Rajapaksa administration conducted itself during the constitutional crisis. "I felt very disappointed, I did not see a change during the 52-day constitutional crisis, and the behaviour of MPs at Parliament was horrible. I was very happy when the Judiciary stood up and did the right thing," he recalled.

Welgama said that he chose to support the SJB for the progressive and diverse views they held, and that he had placed his faith in the 'young' leadership of Sajith Premadasa. "We have arrived at a point where we need a system change," he added.

Addressing the gathering, General Secretary Ranjith Madduma Bandara said that the SJB was keen to contest the upcoming General Election under the telephone symbol. "We know the telephone heralded a revolution in communication and in connecting people when it was launched. Today we have come with the right symbol that signifies that we plan to bring a revolution, a political revolution, a change in political culture," he stated.

Bandara pointed out that the alliance was one of diversity, unity and strength. "We have created the most powerful political movement in Sri Lankan political history," he added, stressing that they will lead the SJB to victory at the polls.

Speaking to the press, SJB leader Sajith Premadasa welcomed the NLFP joining his movement, and stressed that there was no place for corruption and injustice in a SJB-led Government.

Premadasa charged that the Government had no well thought-out national policies, and that they are not prepared to face domestic and international challenges.

"Today we don't see a responsible Government in action, we see that the public are in a state of panic. The main reason the public panics is because they have lost faith in the system," he argued, pointing out that he had warned about the COVID-19 outbreak and urged the Government to take action in early February, before Parliament was dissolved. "The Government was unprepared for the COVID-19 outbreak," he added, urging the public to support the precautionary counter measures and quarantine regulations enforced.