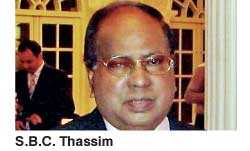 Well-known social worker Al-Haj. S.B. C Thassim(77) passed away yesterday after a brief illness in Toronto, Canada.

He was the first Malay to be honoured with the Deshamanya title in recognition of his yeoman social services undertaken for over 50 years, both locally and abroad. Thassim was instrumental in inaugurating the National Council of Young Men's Muslim Associations (YMMAs) in Sri Lanka, incorporating the Maligawatte YMMA (Incorporated) as an approved charity in 1977. He was the YMMA Maligawatte Patron and Founder President.He also founded the MaligawatteJanaza Welfare Society (Inc.) over four decades ago, providing yeoman services to the poor.

A banker by profession, he was the Vice President of Riyadh Citi Bank, Saudi American Bank and the Samba Financial Group for 30 years. In Riyadh, he was the President of the Sri Lankan Expatriates' Society and was instrumental in establishing the SLES Free Clinic and several other important projects. He was an active member of the Lions Club. The YMMA Maligawatte has arranged special janaza prayers tonight after the 'Isha'prayers at the MaligawatteJumma Mosque.