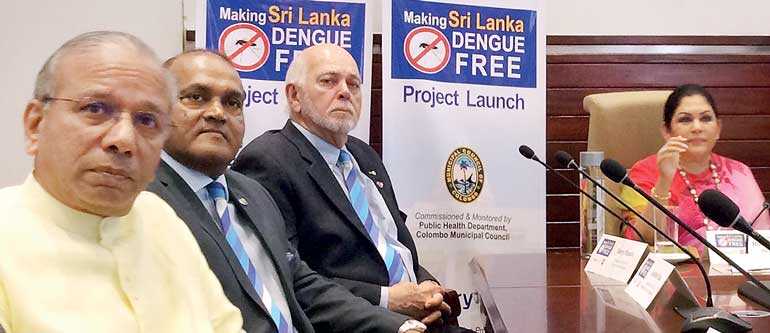 From left: Past Rotary International President K Ravindran, District Governor Dushan Soza, Rotary International President Barry Rassin, and Mayor of Colombo Rosy Senanayake at the launch at CMC Headquarters
Rotary International, which was responsible for eradicating polio from 97% of the world by partnering the Governments of the world, has ventured to make Sri Lanka dengue-free in partnership with the Colombo Municipal Council (CMC) Public Health Inspections unit.

The landmark project was officially launched yesterday at Colombo Municipal Council, under the patronage of Mayor of Colombo Rosy Senanayake, and visiting Rotary International President Barry Rassin, in the presence of Rotary District Governor Dushan Soza, Past Rotary International President K Ravindran, and other key officials, including Ministry of Health Anti-Dengue Control Unit Head Hasitha Tissera.

Mayor Senanayake said: "I thank Rotary for partnering with the CMC. We will require 30,000-40,000 units to cover the country, which we hope Rotary will provide by making it a global project."

Rotary International President Barry Rassin commented: "Sri Lanka can be a model country globally for dengue eradication, so that other countries can emulate the best practices."

As a pilot project, Rotary Sri Lanka is partnering with Colombo Municipal Council and has introduced a product called 'OviTraps' at a controlled geographical area called New Bazaar Ward, Colombo 14, to test the product's efficacy and monitor the results, before a national roll-out, said Chief Medical Officer Dr. Ruwan Wijemuni.

The delegates of Rotary and Colombo Municipal Council were able to witness the activities being carried out at New Bazaar Ward through video-conferencing, where delegates exchanged views online on a live event on social media. The key architects of the 'OviTraps' product, CMC officials Sisira Basnayake and Subash Mendis, were also present to share their views on the initial product placements done during the research and development stage.

The key activities carried out at the test site included cleaning, fogging, educating, and installation of OviTraps in the New Bazaar area. Several Rotarians and Rotaractors actively engaged in the project, making it a success, a CMC official noted.

"Hopefully, we will see the results of the initiative where the local residents will finally benefit from the project," said Dr. Wijemuni.

1000 OviTraps will be installed in selected areas by Colombo Municipal Council Public Health Department staff in the coming months, to get a better understanding of the results achieved.

OviTrap is an innovative product invented by local expertise and manufactured in Sri Lanka. These traps are funded by Rotary Sri Lanka.

"Rotary International District 3220, i.e., Rotary Sri Lanka & Maldives, comprises of 68 Rotary Clubs and over 2000 members, while the oldest member club, Rotary Club of Colombo, is celebrating 90 years of service in the country, which makes this launch very special," said District Governor Dushan Soza.

"Making Sri Lanka dengue-free is one of the key priorities of the current Rotary Year 2018-19, and we will be partnering the National Dengue Control Unit of Ministry of Health too, where there is a strong link with the World Health Organisation," said Rotary Project Chairman Nishantha Nanayakkara.