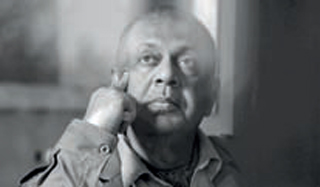 Mangala Samaraweera
---
From 23 to 26 November, family and friends of the late Mangala Samaraweera will come together to mark the passage of three months since his untimely passing, in a series of private and public occasions for reflection.

Given that Mangala passed away tragically on 24 August, at a time when the country was in lockdown and observing stringent pandemic restrictions, it was not possible for all those who had walked with him at different times in his life's journey, to pay their last respects. Those who still bear the scars of grief at his untimely passing, we know, are many. This was reflected in the outpouring of messages, articles, social media posts, sketches, drawings, and even music and poetry not just from all parts of Sri Lanka but from around the world.

'Mathaka Mangala' will attempt to provide everyone who knew him in different capacities, an opportunity to come together to remember him and pay their respects. 'Mathaka Mangala' began with the traditional Buddhist custom of a sermon (bana) on Saturday 20 November at the Matara Bodhiya, from 7 p.m. to 8 p.m.

Today, 23 November, there will be a sermon (bana) in Colombo by Venerable Galkande Dhammananda Thero, Head of the Walpola Rahula Institute. The sermon which will begin at 7 p.m. (Sri Lanka time) will be livestreamed on Facebook and Youtube. On Wednesday 24 November, Mangala's family will offer alms (dhana) to Buddhist monks in his memory. This will be a private occasion of reflection. On Thursday 25 November, Mangala's ashes will be placed at 'The Restpect' Jayaratne Funeral Parlour, Bauddhaloka Mawatha, Colombo 8, from 10 a.m. to 6 p.m. for all those who wish to pay their respects to do so.

On the morning of Friday 26 November, Mangala's ashes will be taken to Matara in a limited vehicle procession by his family and friends. In Matara, the ashes will be placed at the Olanda Dutch Market Hall (Nupe), a community centre which was restored under Mangala's purview, from 2 p.m. to 4 p.m. for all those who wish to pay their last respects.

At 4 p.m., religious rites will be performed by members of the clergy representing Buddhist, Hindu, Islamic, and Christian traditions before the ashes will be taken in a procession to the final resting place of Khema's boy and beloved son of Matara and Sri Lanka to the Matara Cemetery for interment in the Samaraweera family grave.

"In the coming weeks and months, we intend to launch a website memorialising Mangala, that will contain details of his work and his dreams for Sri Lanka as a nation that is reconciled, peaceful, and prosperous where every individual is treated with dignity, and we look forward to sharing information about future events and opportunities for like-minded individuals of all age groups to work together to fulfil Mangala's progressive vision for Sri Lanka," organisers said.