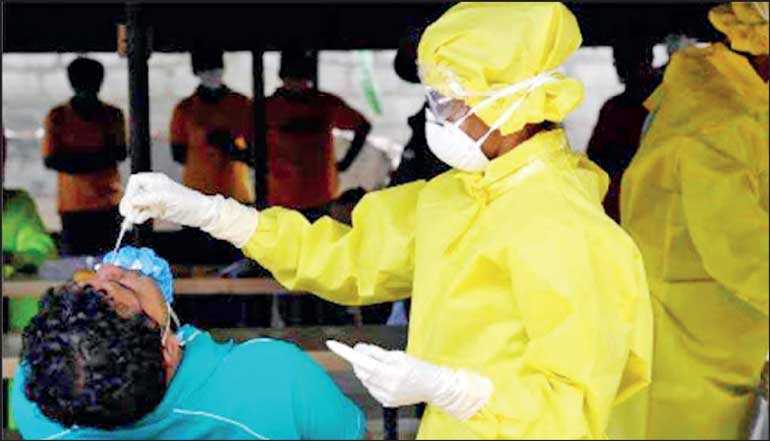 Highest number of daily patients detected in SL, total patient count rises to 104,953
9,209 persons under medical care
All COVID-19 ICU beds occupied by Tuesday, but capacities expanded
Six GN Divisions in Monaragala, Matale and Ampara isolated
---
By Shailendree Wickrama Adittiya
---
The country reached its highest number of daily COVID-19 patients with health authorities stating that 1,466 persons tested positive for the virus yesterday.

This is the second consecutive day where over 1,000 COVID-19 patients were detected in the island. A total of 1,111 persons tested positive for COVID-19 on Tuesday and the Health Promotion Bureau stated that 13,965 PCR tests were performed on Tuesday.

The patients detected yesterday include 1,419 persons from sub-clusters related to the Peliyagoda cluster and 32 persons from the Prisons cluster. The Divulapitiya, Peliyagoda, and Prisons clusters have thus expanded to 99,245 patients.

The country's total COVID-19 patient count is 104,953 and the country's local cases also include 950 Navy personnel and their contacts and 651 persons linked to the Kandakadu cluster.

According to the Epidemiology Unit, 3,484 Sri Lankan returnees from abroad and 295 foreigners have also tested positive for COVID-19. This includes 15 patients detected among Sri Lankan returnees on Tuesday.

The Epidemiology Unit adds that 31,893 persons from Colombo, 19,654 persons from Gampaha, 7,312 persons from Kalutara, 4,446 persons from Kandy and 4,107 persons from Kurunegala are included in the district distribution of COVID-19 patients.

Included in the district distribution are the 1,111 COVID-19 patients detected yesterday, of which 200 persons were from Colombo, 198 persons were from Gampaha and 119 persons were from Kurunegala.

At present, 9,209 persons are under medical care and hospitals have 1,041 persons suspected of having COVID-19 under observation. The active patients include 467 persons at the Bingiriya Treatment Centre, 422 persons at the Giriulla Treatment Centre, and 318 persons at the Dambadeniya Treatment Centre.

Addressing concerns about ICU capacities in the country being reached, Production, Supply and Regulation of Pharmaceuticals State Minister Channa Jayasumana said only a certain number of the total ICU beds in the country were set aside for COVID-19 treatment.

"All of these beds were occupied by [Tuesday] so the Health Ministry immediately decided to set aside ICU facilities in hospitals not used before for COVID-19 patients in order to manage the situation," he said.

The country's COVID-19 recoveries rose to 95,083 with hospitals discharging 227 persons who recovered from the virus yesterday.