Says it would be illegal for Wickremesinghe to remain in power post-Oct. 2024 without holding a poll
Claims postponement of Presidential polls would be the death knell of the country's democracy
Stresses a delayed poll would give rise to domestic and international challenges for SL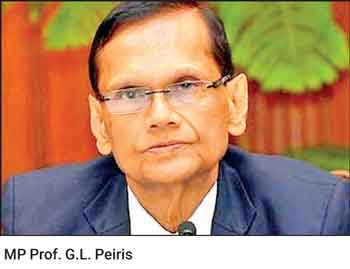 Freedom People's Congress MP Prof. G.L. Peiris emphasised at a press conference yesterday that President Ranil Wickremesinghe must step down from his position after October 2024.

The MP firmly said that if a presidential election is not conducted as scheduled that month, it would be illegal for Wickremesinghe to continue serving as the head of the country.

The MP also expressed deep concern over the Government's assertion that people's sovereignty must be compromised to fulfil the citizen's needs.

Commenting on UNP MP Vajira Abeywardena's suggestion that the presidential election scheduled for next year should be postponed due to the current economic crisis, Peiris argued that allowing such a postponement would be the death knell of the country's democracy.

"If a new president is not elected after October next year, all presidential duties would come to a halt. A delayed presidential election could lead to various domestic and international challenges," he warned.

Peiris noted that J.R. Jayewardene, the first executive president, emphasised the importance of testing public opinion at the end of a presidential term. "Since the centre of power is the will of the people, postponing the presidential election, as was done with local government and provincial council elections, is not possible," he added.