Accuses Govt. of unleashing State-sponsored violence and terror on people
Calls on the people to stand strong against such acts
Says all citizens are against State violence and oppression
---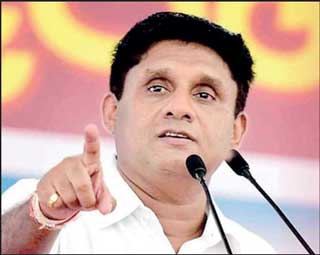 Opposition Leader Sajith Premadasa
---
Opposition Leader Sajith Premadasa has accused the Government of oppressing the people by unleashing State-sponsored violence and terror on them. "The Rajapaksa shadow Government is
creating a new mechanism to destroy democracy in the society," Premadasa said. "We must stand strong against this," he added.

Premadasa made these comments during a discussion held at the Opposition leader's office in Colombo yesterday with a group of attorneys aligned with the National People's Assembly for Democracy and Social Justice.

The Opposition leader claimed that civil society groups that have stood for democracy are now being harassed and threatened. "In a situation such as this, there is much responsibility on the part of the legal community," he said while expressing his gratitude for their services rendered to secure the people's right to life.

"Through acts of oppression is the Government warning those engaged in the citizen's struggle? Is the Government asking the people to stop protesting by attempting to prevent people from gathering?" Premadasa asked.

The leader of the Opposition also questioned if the Government is trying to give the message that the people have lost their democratic right to hold an opinion, express their views and speak.

He said that the legal community of this country as well as all responsible citizens are against this violence and oppression meted out by the Government.