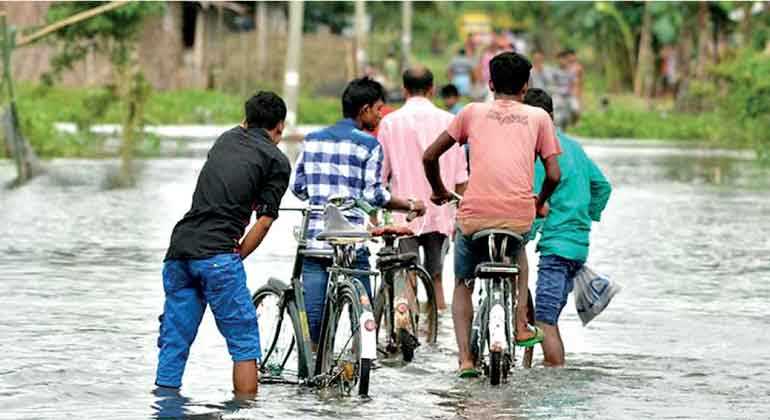 Landslides and flood warnings issued to parts of the island
2 deaths reported due to landslides including 9-year-old child
200 mm downpours likely in six districts, wind speed may increase 50-60 kmph across country, says Met Department
Communities at risk near several areas asked to evacuate to safer grounds
Navy pre-deploys rescue and relief teams to high risk areas, Air Force helicopters and Army troops on standby
---
By Asiri Fernando
---
Two persons died in the Ratnapura District yesterday, due to adverse weather influenced by super cyclone 'Amphan' in the Bay of Bengal with many parts of the country bracing for more rain and possible landslides.

A nine-year-old child and a 30-year-old female from Wewalwatta and Lellopitiya in Ratnapura died in two incidents, due to a landslide and a tree falling on a market, Police said. Several more residents of the area including children have been admitted to hospital for treatment after being injured due to landslides. The Meteorological Department issued warnings of thundershowers that are likely to impact the Southern, Western, Sabaragamuwa, Central and North-Western provinces with isolated heavy showers above 200 mm in Nuwara Eliya, Kalutara, Ratnapura, Kegalle, Galle and Matara districts. Wind speed may increase up to 50-60 kmph at times over the island with cloudy skies predicted for most parts of the country today, the Met department said in press release.

'Amphan' will likely effect the region for the rest of the week, the Met Department warned, pointing out that the storm is likely to move towards the north-northeast away from the island towards west Bengal coast during this afternoon.

"Several spells of showers will occur in North and North-Central provinces. The general public is kindly requested to take adequate precautions to minimise damages caused by lightning activity during thundershowers," the Department added.

The Police have moved 60 individuals from 17 homes in Kottampitiya and Pelmadulla to a safe location after flash flooding occurred on a mountain slope behind the houses, raising fears of an impending landslide. Some residents of Kottampitiya and Bathgamgoda were also moved to higher ground after their villages were flooded yesterday, the Police said.

Ayagama, Rathanpura, Alapatha, Kalawana and Kiriella Provincial Councils have been declared areas where there is a high risk of landslides by the National Building Research Organisation (NBRO) yesterday, with the Information Department issuing a press release calling on residents of the named areas to evacuate to safer grounds.

"People in these area will have to be vigilant for signs of landslides and move quickly if the warning signs are spotted," said Disaster Management Centre (DMC) spokesman Pradeep Kodipilli, pointing out that the communities have been educated on how to spot changes in the landscape which point to possible landslides.

The DMC also issued landslide warnings to Galle, Kegalle, Kurunegala, Nuwara Eliya and Ratnapura yesterday. A minor flood warning was issued for Gin Ganga and Nilwala Rivers yesterday, urging those who reside near the rivers to evacuate safer ground.

The Sri Lanka Navy has pre-deployed a number of rescues and relief teams with boats in flood risk areas, the Navy told the Daily FT. "We also took precautionary action to clear bottlenecks under bridges and waterways in flood prone areas to assist faster drainage of rain water," the Navy spokesman added.

The Sri Lanka Air Force has also stationed a number of helicopters and placed rescue crews on standby at several locations islandwide to respond to any emergency situation, the Air Force said. The Sri Lanka Army has troops positioned in high risk areas and will respond to any natural disaster and deploy when the DMC requests assistance, the Army told the Daily FT.