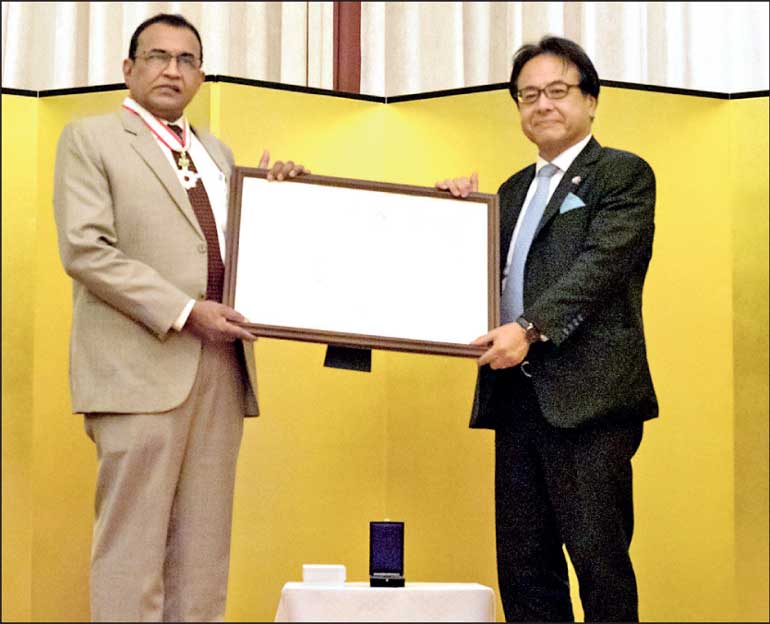 In a ceremony held at Kandy, Japanese Ambassador MIZUKOSHI Hideaki conferred 'The Order of the Rising Sun, Gold Rays with Neck Ribbon' on Prof. Upul Bandara Dissanayake.

The esteemed recognition pays tribute to Prof. Dissanayake's exceptional contributions in fostering enduring academic partnerships between Japan and Sri Lanka.

Prof. Upul Bandara Dissanayake, a distinguished scholar renowned for his leadership as the former Vice Chancellor of the University of Peradeniya and Chairman of the Board of University Administration, has been instrumental in fortifying bilateral ties between the two nations, specifically in the domain of dental sciences and wider academic collaboration. Under his pioneering guidance, the JICA project 'Dental Education and Oral Health Promotion of the Faculty of Dental Sciences' was successfully materialised, resulting in the establishment of cutting-edge clinical and research facilities at the University of Peradeniya. These advancements served as a pivotal platform for bolstering academic exchanges with Japanese counterparts at various esteemed universities in Japan.

Prof. Dissanayake's unwavering commitment to the betterment of academia extended beyond the field of dental sciences, as evidenced by his leadership in hosting JICA's third country training programs and fostering collaborations in various interdisciplinary areas including agriculture, engineering and environmental studies. Notably, his efforts culminated in the facilitation of numerous joint research initiatives and partnership MOUs between Japan and Sri Lanka, further solidifying the bilateral relationship.

During the ceremony, Ambassador MIZUKOSHI extended his heartfelt congratulations to Prof. Dissanayake, acknowledging his outstanding academic prowess and profound dedication to fostering mutual understanding and collaboration between Japan and Sri Lanka. Ambassador MIZUKOSHI expressed his sincere hope that Prof. Dissanayake will continue to play a pivotal role in nurturing and enriching the enduring relationship between the two nations in the years to come.

This esteemed accolade not only honours Prof. Dissanayake's remarkable achievements but also serves as a testament to the steadfast commitment to fostering enduring and prosperous relations between Japan and Sri Lanka.