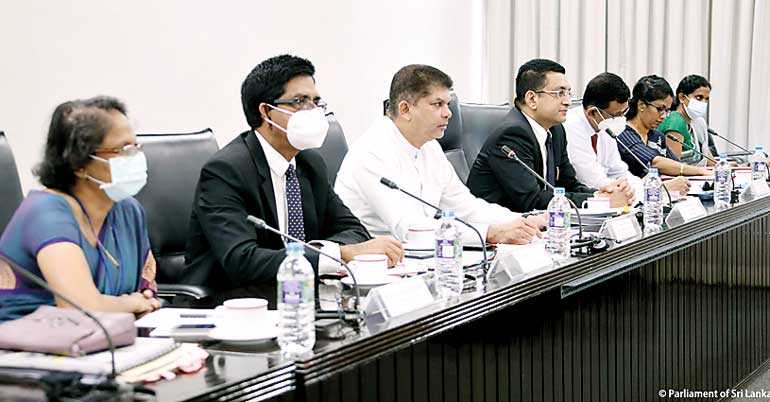 State Minister Ratwatte says awaiting cabinet approval to implement program
Around 8,000 minor offenders to be released shortly to reduce congestion in prison
Justice Minister says emphasis should be on rehabilitating minor drug offenders, not imprisoning them
---
Prisoners on death row will have their sentences commuted to 20 years and will be eligible for release after severing the stipulated period, State Minister of Prison Management and Prisoners Rehabilitation Lohan Ratwatte said yesterday.

He told the Consultative Committee of the Justice Ministry in Parliament that the process will be set in motion once approval is given to the Cabinet paper to implement this program.

This and several other measures will be put in place by the Government to ease congestion in prisons, Ratwatte said, adding that initially around 8,000 inmates serving short sentences will be released.

He said that there are 28,951 inmates in the 28 prisons across the country, and that President Gotabaya Rajapaksa has instructed steps be taken to reduce the number of inmates especially due to the COVID-19 situation.

He said the State Ministry intends to settle minor bail amounts on behalf of prisoners who are in prison due to their inability to pay it. Commissioner General of Prisons Thushara Upuldeniya said that around 10,500 inmates are in jail for drug related offences out of which 8,500 are related to heroin.

Justice Minister Ali Sabry who presided at the meeting said that the way forward should be to rehabilitate drug offenders, not imprison them. He added that in most cases it is not the drug dealers who are convicted but those who have fallen victim to drug abuse. MP Weerasumana Weerasinghe spoke on the need to expedite hearings for cases involving children, and said the absence of a special court for juvenile offenders is a serious concern. He said that courts for juvenile offenders should be set up in each district and cases heard expeditiously. Justice Minister Sabry said this and several other issues will be addressed by his ministry in the future. He noted that there are more than 5,000 civil cases pending in the country's District Courts which have not been resolved for over 25 years.

Meanwhile, in a move to reduce laws delays, the number of Supreme Court judges has been increased from 11 to 17 and the number of judges in the Court of Appeal has been increased from 12 to 20, a measure not taken for nearly 42 years. Sabry added that Cabinet approval has been granted to move the Ministry located in Hulftsdorp from its present location providing the premises for the purpose of expanding the courts system. The MPs who attended the meeting included Charles Nirmalanathan, Diana Gamage, M.S. Thowfeek, Udayana Kirindigoda, Madhura Vithanage, S. Kajendran, Sudath Manjula, Gajendrakumar Ponnambalam and Sagara Kariyawasam.