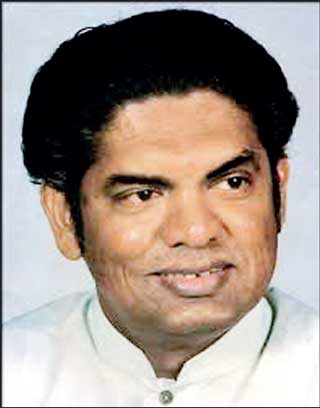 Lalith Athulathmudali
---
President Ranil Wickremesinghe will deliver the Lalith Athulathmudali Commemorative Freedom Speech on the theme "Sri Lanka: The way forward" today at 5.00 p.m. at the Lotus Hall, BMICH.
The event is organised by the Lalith Athulathmudali Foundation in collaboration with the Institute of Democracy and Leadership and the Friedrich Naumann Foundation for Freedom – Sri Lanka.

The 86th birth anniversary of the late Lalith Athulathmudali falls on 26 November. Athulathmudali succumbed to the bullet of an unknown gunman at a political rally almost 30 years ago. But his legacy continues.

A brilliant academic and a pragmatic politician he held several portfolios in the governments of Late Presidents- J.R. Jayewardene and Ranasinghe Premadasa.

Lalith Athulathmudali was indefatigable in his quest for knowledge and was continuously opening windows for our youth to the modern world of knowledge and technology. With the Mahapola concept, he demonstrated the fact that school was not merely an institution concerned with distributing prescribed learning but rather that it was motivated towards creating an awareness of ever expanding human horizon in the world of today and tomorrow.

Communication and information were central to Lalith's vision of realising his goals. His steadfast ambition was that our youth be equipped to take their place in the global village of advancing technology.

Lalith did not overlook the business community but created lucrative openings for them. The business community benefitted by his pragmatic vision and innovative ideas. Modernisation of commercial laws, Export incentives, introduction of the Export production villages, Exporter's forum and the Presidential Export awards, underlining emphasis on exports, Development of the Port as a modern container port and equipping it for transhipment are some of the few initiatives he took to develop the economy.

In his short span as the Minister of Agriculture he introduced many novel ideas such as Agricultural Export villages, the soil and climate cropping system and the concept of growing for the market. His stint as the Education portfolio he introduced many reforms with the student being the priority.

His political ideology for the country was of national, secularism, democracy and market economy with a safety net for the less privileged. He insisted that the voice of the people, their needs, their aspirations and their priorities must become the cornerstone of the edifice of planning. Scholarships for postgraduate studies, grants and other special awards will be included in the Foundation's educational programmes.