Presidential Task Force to be headed by Def. Min. Secy.
Heads of armed forces and SIS chief among its members
Prevention of drug menace, including trafficking, among its objectives
Preventing illegal, antisocial activities in and around prisons also among responsibilities
President Gotabaya Rajapaksa has established a Presidential Task Force consisting of all military and police personnel to build a "secure country and a disciplined, virtuous, and lawful society," according to the Gazette notification issued yesterday.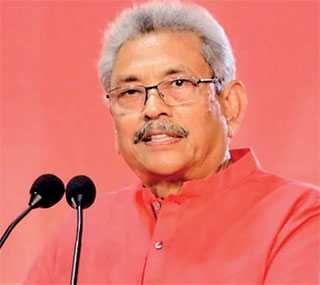 President Gotabaya Rajapaksa
---
The Secretary to the Ministry of Defence Major General (Retired) Kamal Gunaratna was appointed as Chairman of the Task Force, which has as its members the Commanders of the Army, Navy and Air Force, the Inspector General of Police, and intelligence officers. The members of the Task Force have been tasked with: taking necessary immediate steps to curb illegal activities of social groups which are violating the law, which are emerging as harmful to the free and peaceful existence of society at present in some places of the country; taking measures for prevention of the drug menace; preventing entry of drugs from abroad through ports and airports; fully eradicating drug trafficking in the country; preventing other social illnesses caused by drug abuse; and taking necessary measures to take legal action against persons responsible for illegal and antisocial activities conducted in Sri Lanka while located in other countries.

It is also tasked with investigating and preventing any illegal and antisocial activities in and around prisons.

In addition to the Defence Secretary, its other members are: Commander of the Sri Lanka Army Lieutenant General Shavendra Silva, Commander of Sri Lanka Navy Vice Admiral Piyal de Silva, Commander of Sri Lanka Air Force Air Marshal Sumangala Dias, Acting Inspector General of Police C.D. Wickramaratne, Director General of Customs Major General (Retired) Vijitha Ravipriya, Chief of the National Intelligence Service Major General (Retired) Jagath Alwis, Director of State Intelligence Service Major General Suresh Salley, Director of Army Intelligence Unit Major General A. S. Hewavitharana, Director of Navy Intelligence Unit Captain S.J. Kumara, Director of Air Force Intelligence Unit Air Commodore M.D.J. Wasage, Deputy Inspector-General of Police, Special Task Force of Police T. C. A. Dhanapala, and Deputy Inspector-General of Police Waruna Jayasundara.