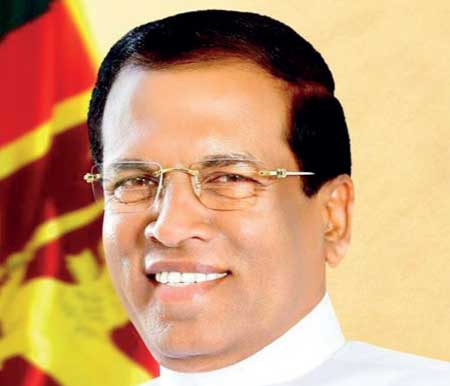 President Maithripala Sirisena, reiterating his stance that foreign judges should not be involved in the country's internal affairs, said the country's Judiciary must be trusted to mete out justice as the background required to make decisions independently and issue verdicts without any political influence has been set up.

The President made these remarks while addressing the Annual Conference for Judicial Officers which commenced at the Galadari Hotel, Colombo yesterday.

The two-day conference was organised by the Sri Lanka Judges Institute on the request of the Judicial Service Association of Sri Lanka.

Speaking at the occasion, the President said he believed that the background required for judges to make their decisions independently and issue verdicts without any political influence had been set up.

President Sirisena said he was of the strict view that foreign judges should not be brought to the country at any time. On every such occasion, he said that he had mentioned that there should be trust in the Judiciary.

The President said he had explained to the international community that under this Government it would be permitted to implement a Judiciary that could be trusted and was the supremacy of the law.

He has also explained that there were enough intellectuals with enough knowledge in the field to carry out legal tasks without consulting foreign judges.

As a result of that, the problem has been solved, he said. Some LTTE members living abroad and members of some organisations as well as NGOs affiliated to the LTTE are the ones still making various statements and have not given up the cause, he said. However, the UN, the Human Rights Council or the Government of any other country has not presented their opinion at any time regarding foreign judges.

"I consider it a victory Sri Lanka received as an independent sovereign country," he said.

Speaking of the promotions granted to judges, the President said he had informed the Chief Justice and the Judicial Services Commission to prepare a formal system which everyone could accept to solve problems that had arisen when granting promotions to judges.

The President emphasised that judges approaching anyone to submit facts about promotions was unsuitable.

The commemorative volume, which had been published on behalf of the Annual Conference of the Judicial Services Commission, was presented to the President at the event.

A group including Minister of Justice Thalatha Atukorale, Chief Justice Priyasath Dep, Judicial Services Association President Ranga Dissanayake and Judicial Services Commission Chairman Pradeep Jayatilleka were present at the occasion.