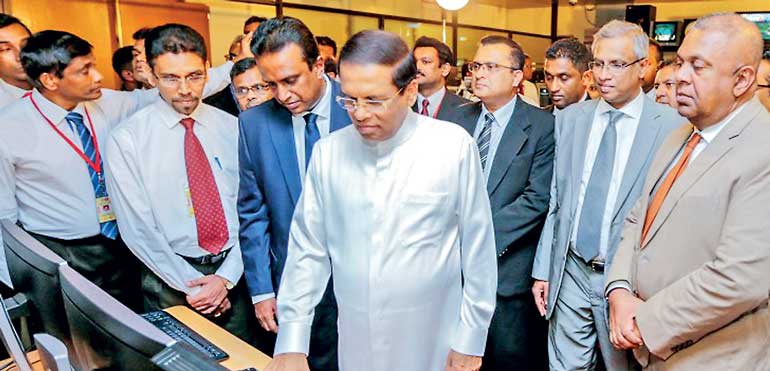 President Maithripala Sirisena as National Integration and Reconciliation Minister initiated a special budget proposal in 2017 to establish a special dedicated reconciliation TV channel.

This special dedicated reconciliation TV channel has been launched on 20 February by President Maithiripala Sirisena as part of the Nethra channel of the Sri Lanka Rupavahini Corporation. The objective of this TV channel is to provide an opportunity to encourage multi-cultural, multi-ethnic and multi-religious community based integration programs that recognises the richness in diversity and promote integration, facilitate reconciliation, building a pluralistic and inclusive society to achieve sustainable peace and harmony among different ethnic and religious community in the country said National Integration and Reconciliation Ministry Secretary V. Sivagnanasothy. The Ministry has allocated Rs. 180 million as part of the special budget proposal to establish the reconciliation TV channel. In order to obtain suitable frequency assignment, transmitters have been newly installed in Kokavil, Jaffna, Maldulsima, Hantana and Colombo. The reconciliation TV channel will run documentary and musical programs initially, and will be expanded at full scale after the establishment of the studio at Jaffna. The studio will provide an opportunity for the Northern people to get involve in sharing knowledge including educational, social and cultural programs, said Sivagnanasothy. The reconciliation TV Channel will help to create a dialogue between North and South and helped to strengthen the integration and reconciliation process. Sri Lanka Rupavahini Corporation through this reconciliation TV Channel carry the reconciliation and peace messages island-wide and strengthen and champion the peace advocates to serve as facilitators and leaders to promote sustainable peace.

The Nethra TV channel experienced interruptions due to sharing of telecasting time between programs and sports. The upgrading of NethraTV channel and establishment of reconciliation TV channel will create a major change in telecasting reconciliation programs, that will help to build sustainable peace and harmony for a prosperous Sri Lanka, said Sivagnanasothy.