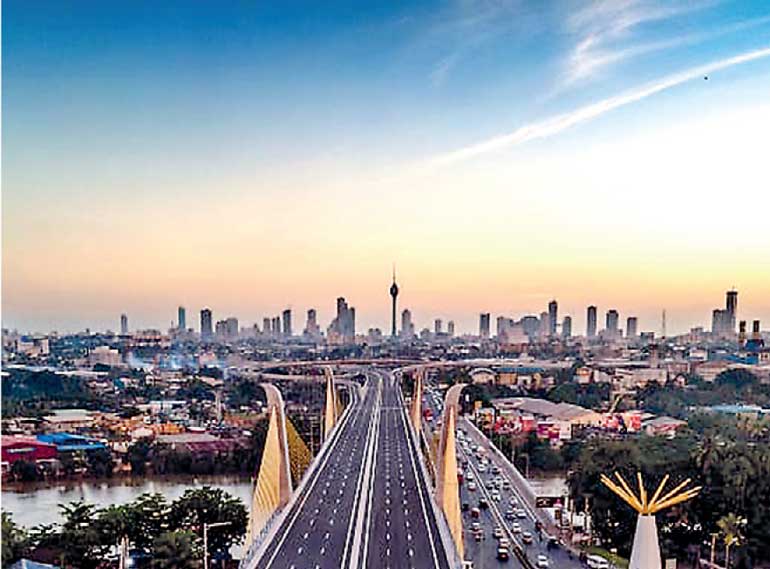 ---
The new Kelani Bridge in Peliyagoda will be declared open today under the patronage of President Gotabaya Rajapaksa and Prime Minister Mahinda Rajapaksa.

Billed as a landmark project it comprises Sri Lanka's first bridge façade and has been named 'Golden Gate Kalyani'.

The six-lane bridge was constructed with advanced technology from Japan, culminating in several milestones in transport technology in Sri Lanka. It was constructed through a concessionary loan of 35,020 million yen from the Japan International Cooperation Agency (JICA) extends southwards from Colombo-Katunayake Expressway and divides towards Port Access Road ending at Ingurukade Intersection and Baseline Road, ending at Orugodawatte Intersection.

The bridge itself consists of two sections – the extradosed bridge section over the river and the steel box girder viaduct section over the existing roadway. Both technologies are used for the first time in Sri Lanka. The extradosed design enabled the bridge to have the widest span without piers in any bridge in Sri Lanka.

After the Colombo-Katunayake Expressway was declared open, the number of vehicles entering the city of Colombo on a daily basis soared considerably. As the capacity of the existing bridge was inadequate for the large number of vehicles driving across, preliminary plans for a project to construct a new bridge were drawn up in 2014.

The loan from JICA was provided under Special Terms of Economic Partnership (STEP), at interest rates of 0.1% p.a. and 0.01% p.a. for civil work and consultancy services, respectively, with a 40-years repayment period including 10 years of grace period. The Highways Ministry and RDA are the executing and implementing agencies respectively for the project.