Modi praises Sirisena's commitment to reconciliation, democracy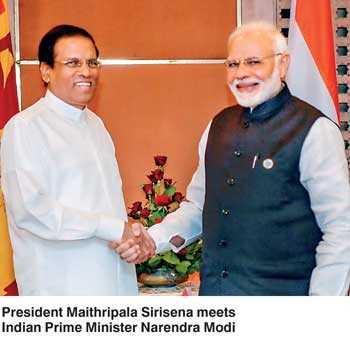 Indian Prime Minister Narendra Modi yesterday expressed his deep appreciation of the commitment made by President Maithripala Sirisena to achieve reconciliation and sustainable peace while ensuring democracy and freedom in Sri Lanka.

These remarks were made when President Sirisena, who is in Nepal to attend the 4th Summit of the Bay of Bengal Initiative for Multi-sectoral Technical and Economic Cooperation (BIMSTEC), met with Indian Prime Minister Narendra Modi in Kathmandu.

During this cordial discussion with the President, the Indian Prime Minister extended his birthday wishes to the President whose birthday falls on 3 September.

At the conclusion of the summit, the Chairmanship of BIMSTEC will be handed over to Sri Lanka by the current Chair, Nepal. Expressing his views on this, the Indian Prime Minister said that India was ready to provide its fullest assistance for any task assigned to it by new BIMSTEC Chairperson President Sirisena.

Prime Minister Modi had also noted that he believed BIMSTEC would become a stronger organisation under the leadership of President Sirisena. The Indian Premier added that through this new leadership BIMSTEC would receive an opportunity to achieve its objectives and goals.