Says suspect's death will give rise to suspicion
Claims Sri Lanka is now lawless
Calls on Leader of the House Susil Premajayantha to comment on matter
Premajayantha says cannot comment as investigations are underway
---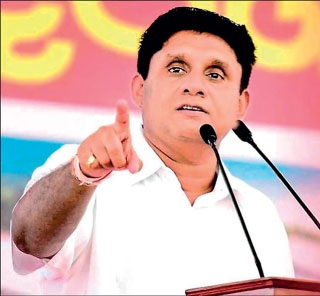 Opposition Leader Sajith Premadasa
---
Opposition Leader Sajith Premadasa has demanded answers from the Government on the killing of a man believed to be connected to the Easter Sunday attack.

The man identified as 38-year-old Mohamed Badurdeen Mohamed Harnas was hacked to death by a group on Sunday morning in Mattakkuliya. He was declared dead on admission to the National Hospital in Colombo. Harnas was out on bail at the time of his killing.

"What is happening in this country? Is this not lawlessness? There is no law in this country. On the other hand, the killing of an accused in the Easter Sunday attack also gives rise to suspicion," Premadasa said in Parliament on Monday.

He also drew the attention of the house to a claim by social media activist Chirantha Amarasinghe that he was receiving death threats. Amarasinghe is the president of several activist groups including the Ceylon Motorcyclists Association and has made similar claims in the past. "He has uploaded a video in fear claiming there were people hunting him down to kill him," Premadasa said.

Premadasa called for a statement from Leader of the House Susil Premajayantha on what he called the emerging lawlessness in the land. Responding to Premadasa, Premajayantha said it was difficult to comment on the matter as it is still being investigated by the authorities. The Leader of the House said throughout history, various incidents have occurred in the country and that since July, the status quo has been one of protest amid social, political and economic issues.

"We don't know if these are organised. The police and the Criminal Investigation Department must investigate," he said.

"We can ask that the incidents are investigated, but we cannot give an opinion at the moment in Parliament because it is under investigation," he added.