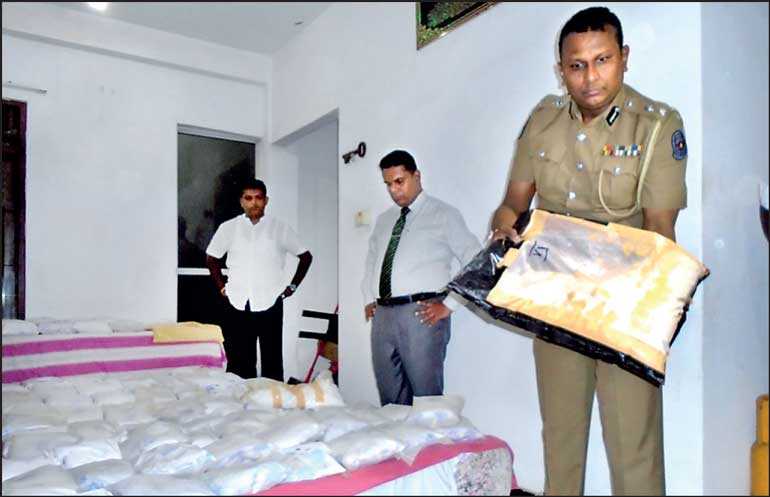 Two Bangladeshis arrested for possession of 278 kg of heroin and 5 kg of cocaine
Stash, valued at over Rs. 3.3 billion, found at house in Dehiwala
By Nuwan Senarathna

Two Bangladesh nationals were arrested by police yesterday for possession of 278 kg of heroin valued at Rs. 3.3 billion, which is believed to be the largest ever haul of heroin caught in Sri Lanka, officials said.

Police Narcotics Bureau and Special Task Force (STF) had arrested two Bangladesh nationals at a housing complex in Mount Lavinia, where they found 9 kg of heroin hidden in cake boxes. Upon questioning, police had found a remote control for a garage door and keys.

When police interrogated further regarding the remote control and keys, the suspects had revealed that they gave access to a two-storey house in Dehiwala. When police had entered the house in Dehiwala, the heroin stashes were hidden in different places around the house. "During further inspections, the police were able to find the rest of the heroin hidden in traveling bags, and some were hidden in cake boxes," SP Ruwan Gunasekara said.

According to SP Gunasekara, the two suspects had arrived in Sri Lanka on 23 December, and are believed to have travelled multiple times to the county. He said police had also commenced an investigation to look into the suspects' travel history in Sri Lanka and their activities during their stay. "This is a rental house believed to be the main heroin distribution centre in Sri Lanka. We believe this house has been used as a safe house," he added.

Two suspects were arrested by police on 14 December in Nugegoda with 1 kg of heroin hidden in cake boxes, and on 15 December, a Bangladeshi woman was also arrested with 1 kg of heroin in Dehiwala near Galle Road. Following interrogation of the female suspect, police were able to find 31 kg of heroin in a house in Ratmalana where that woman had stayed.

SP Gunasekara said the heroin found in Nugegoda and Ratmalana had similar packaging methods to the heroin found yesterday in Dehiwala, which is believed to be from the same stock. He also said the house was used to make fresh heroin from expired heroin for resale. He further said police have found 5 kg of cocaine in the house, valued at Rs. 75 million.