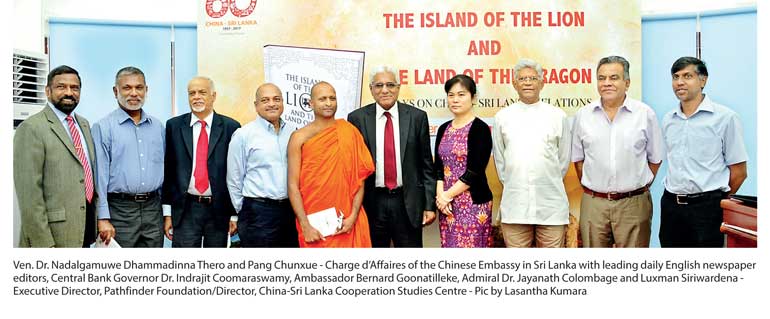 The first copy of 'The Island of the Lion and the Land of the Dragon - Essays on Sri Lanka-China Relations', which comprises essays by prominent Sri Lankan and Chinese academics, was handed over yesterday to all leading daily English newspaper editors by the Charge d'Affaires of the Chinese Embassy in Sri Lanka Pang Chunxue.

The Pathfinder Foundation (PF) and the China Institutes of Contemporary International Relations (CICIR) jointly published the book. The launch event was held at the Chinese Cultural Center in Colombo. Lalith Alahakoon – Editor-in-Chief of all the English newspapers at Lake House, Prabath Sahabandu - Editor the Island, Nisthar Cassim - Editor Daily FT and Kesara Abeywardena - Editor Daily Mirror collected the first copies from Pang.

The publication, which was edited by Ambassador H.M.G.S. Palihakkara and Sri Lankan contributors including Ven. Dr. Nedalagamuwe Dhammadinna Thero, Central Bank Governor Dr. Indrajit Coomaraswamy, Dr. P.B. Jayasundara, Prof. Rohan Samarajiva, Prof. Sirimal Abeyratne, Ambassador Bernard Goonetilleke and Admiral Dr. Jayanath Colombage while the Chinese contributors were Dr. Li Li, Dr. Wang Shida, Dr. Hu Shisheng, Dr. Zhao Hongtu and Dr. Lou Chunhao.

Ambassador Goonatilleke briefed the gathered invitees at the launch on the academic literature collection, saying that this was a significant event in the history of relations between both countries. Pathfinder Foundation Founder Milinda Moragoda spoke with Sri Lankan and Chinese specialists to create this publication and credit should go to him, Goonatilleke added.

The Chief Guest at this event was Dr. Coomaraswamy, who delivered the keynote address on 'Promoting Chinese Investments in Sri Lanka: A Way Forward'. Ven. Dr. Nadalgamuwe Dhammadinna Thero, Ambassador H.M.G.S. Palihakkara and the Sri Lankan appointed as the first Secretary General of BIMSTEC Sumith Nakandala were also present at the event.