Speaker to seek AG advice on conducting PC polls under former system
Minority parties to air concerns with President
Party leaders to then meet AG with results of President's discussion


By Chathuri Dissanayake

Party Leaders yesterday agreed to seek advice from the Attorney General on the possibility of holding Provincial Council elections under the Proportional Representation (PR) system.

National Integration, Official Languages, Social Progress and Hindu Religious Affairs Minister Mano Ganesan told Daily FT that the discussion focused on how to move forward the process, which has been delayed for years.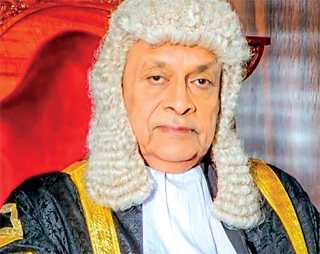 Speaker Karu Jayasuriya
"Speaker Karu Jayasuriya promised to seek the AG's advice on conducting PC elections under the former system," Ganesan, who heads the Tamil Progressive Alliance, said.

The Attorney General's advice will be sought to determine the amendments needed to set up the necessary legal framework to hold the Provincial Council Elections in provinces where the term has lapsed.

Leaders of a number of minority parties, including Sri Lanka Muslim Congress Leader Rauff Hakeem, All Ceylon Makkal Congress Leader Rishad Bathiudeen, and Ganesan, are set to meet President Maithripala Sirisena to discuss a number of assurances given when the Provincial Council Election Act was passed last year.

"Minority Party Leaders would inform Speaker and all Party Leaders about the outcome of their meeting with the President," Ganesan said.

Party Leaders will meet the Attorney General with the observations from the meeting held with the President, Public Enterprise, Kandyan Heritage and Kandy Development Minister and Leader of the House of Parliament Lakshman Kiriella, who was also at the Party Leaders' meeting, told Daily FT.

During the Party Leaders' meeting, minority parties also raised a number of issues, including the possibility of increasing the number of Councils, Kiriella said. However all concerns will have to be discussed with the AG, he added.

The terms of three Provincial Councils – Eastern, North Central and Sabaragamuwa – elapsed 16 months ago, while the official tenure of the Central, Northern and North Western Provincial Councils lapsed four months ago. However, elections have been delayed after Parliament voted against the Delimitation Report to hold elections under the new 50:50 mixed proportionate system.

Election Commission Chairman Mahinda Deshapriya last month threatened to resign if the Government does not make provisions to hold elections before 10 November.

Visibly irate over criticism levelled at him for not holding PC Elections, Deshapriya insisted that the Commission is not in a position to hold elections until Parliament or the Judiciary give a solution to the current impasse.

Deshapriya appealed to the Members of Parliament, the Prime Minister and the President to not deny the people of their sovereignty by further postponing the Provincial Council Elections.

Deshapriya stated that the people of the country also had a responsibility to pressure political parties to hold elections without delay, and take action to rectify the situation.

However, he dismissed any possibility of the Election Commission going to Court to obtain a directive to hold elections.