Cabinet approves proposal to abandon proposed CTA
Cabinet spokesman says proposed law mollycoddled terrorists, curbed rights of public
Says Bill drafted to appease foreign interests
PTA to remain in place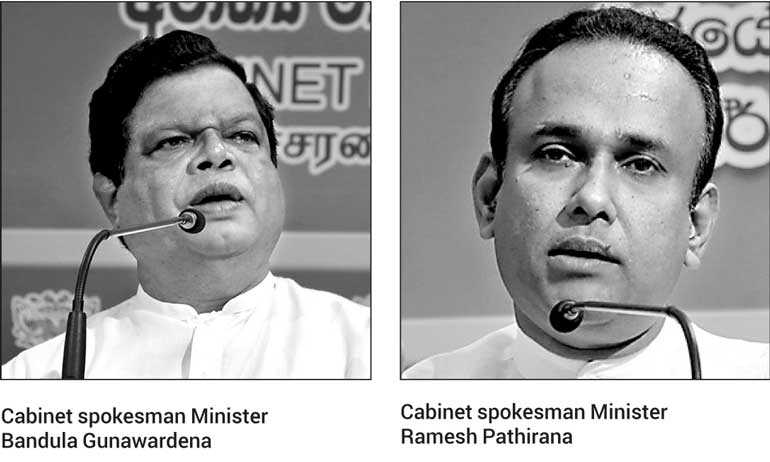 The Cabinet on Thursday approved a proposal to withdraw the Counter Terrorism Act (CTA) which was tabled in Parliament by the former Government in October 2018 and was to replace the Prevention of Terrorism (PTA).

The proposed Bill has been in limbo since it was presented to Parliament, and has been stagnating in a Parliamentary Oversight Committee. It was also challenged before the Supreme Court on the grounds that some of its provisions are unconstitutional.

The proposal to withdraw the Bill was made by Leader of the House and Minister of Foreign Relations Dinesh Gunawardena.

Cabinet spokesman Minister Bandula Gunawardena said that the CTA was drafted to appease foreign interests and to mollycoddle terrorists, instead of countering the threats of terrorism.

"There was opposition to the Bill from the start, and we have repeatedly opposed it at Oversight Committee meetings. If the CTA was enacted, it would have stopped the Armed Forces and Police from dealing effectively with the threat of terrorism, and instead curbed the rights guaranteed to the people by the Constitution, such as political trade union rights, and their freedom of expression." Gunawardena said that the PTA, which was enacted in 1979 would remain in place instead.

"The CTA was opposed by many people in this country. The Justice Minister in the former Government refused to present this Bill to Parliament, and it had to be done by the then-Foreign Minister Tilak Marapana. This is a clear indication that the Bill was intended to serve foreign interests, and did not suit our country," he added.
- Pix by Lasantha Kumara