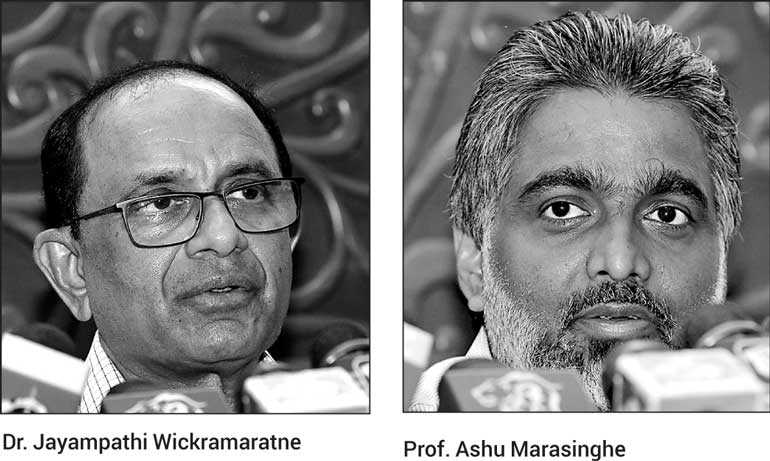 UNP MPs say utmost was done to protect information given during PSC
Willing to take additional measures to ensure sensitive details are safeguarded
Argue public have right to know what led to Easter Sunday attacks
Say transparency integral to a democracy
Insist possible to hold PSC sessions and protect national security at same time
By Nuwan Senarathna

United National Party (UNP) MPs Dr. Jayampathi Wickramaratne and Prof. Ashu Marasinghe yesterday denied allowing media to report on Parliamentary Select Committee (PSC) proceedings undermined national security, insisting transparency was essential for inquires into the Easter Sunday attacks to be successful and defended the public's right to such information.

The PSC to inquire into the Easter Sunday attacks was appointed on 23 May and the very next day Parliament decided to open the proceedings of the PSC to media following a proposal made by Leader of the House Lakshman Kiriella.

However, Opposition MPs backing Opposition Leader Mahinda Rajapaksa had criticised the decision to allow journalists to be present and air live proceedings of the PSC sitting, claiming it would compromise national intelligence services by releasing sensitive information.

Speaking to the media at Temple Trees, PSC member Dr. Wickramaratne said the PSC would take necessary measures to prevent sensitive information on national security being revealed to media during the proceedings. Giving their views, both parliamentarians nonetheless stood by the people's right to know and insisted that no sensitive information had been released during Wednesday's session. "We were mindful about what the public needs to know but we are also very mindful that whatever information is revealed through the committee should not adversely affect national security. But we welcome suggestions on how to improve the broadcast," Dr. Wickramaratne said.

Dr. Wickramaratne pointed out that the PCS proceedings were carried out under the principles of the public's right to information, which he argued was a fundamental right of citizens of Sri Lanka. Even though statements were recorded, documents and other sensitive information would be protected and not released to media, he assured.

He said the decision to open the proceedings of the PSC improved the transparency of the proceedings and the public would be able to see how proceedings were conducted. He pointed out many democratic countries around the world aired live proceedings of similar committees where public officials were questioned by representatives of the people, which in this instance was made up of members of the Sri Lankan Parliament.

Dr. Wickramaratne said the PSC was ready to stop live streaming statements at any time if necessary to prevent sensitive information from coming into the public domain. He said they would look for additional measures to make the live stream more secure.

Dr. Wickramaratne also contended that summoning Defence Sectary General (Rtd) Shantha Kottegoda and National Intelligence Head Sisira Mendis before the PSC did not undermine intelligence services, because they were well-known public figures. He argued that if operatives were placed before the PSC that could be problematic, but noted that both Kottegoda and Mendis were already well known officials and revealing their identities did not cause any harm to national security.

"When the Defence Secretary said he wanted to mention certain things separately, we did not even ask further questions about it. If he wants to do it, we will do so later without cameras. We did not ask anything related to intelligence officers or intelligence operations, because such information should be protected and we will never do anything to compromise their identities or their operations."

However, Dr. Wickramaratne pointed out that the public had the right to know if there had been any negligence or incompetence ahead of the Easter Sunday attack. He noted the very purpose of the PSC was to look into irregularities, negligence and incompetency so remedial steps could be taken to prevent such a failure in the future.
Pic by Shehan Gunasekara