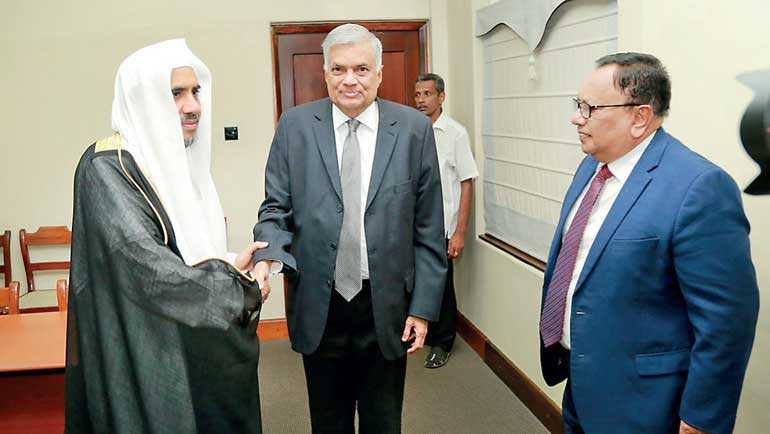 Prime Minister Ranil Wickremeshinge shakes hands with Muslim World League Secretary General Sheikh Mohammed Bin Abdul Karim Al-Issa (left) while Western Province Governor AJM Muzammil looks on
---
Prime Minister Ranil Wickremeshinge yesterday met with Secretary General of the Muslim World League Sheikh Mohammed Bin Abdul Karim Al-Issa at the Temple Trees.

During the meeting, Prime Minister Wickremesinghe discussed the strategies used by the Government to arrest all Easter Sunday attacks suspects, and the steps taken to prevent repetition of such incidents.

Muslim World League Secretary General Sheikh Al-Issa expressed his condolences over the Easter Sunday attacks. Sheikh Al-Issa appreciated steps taken by the Government to bring the country back to normalcy. He also pointed out that he had held broader discussions with the Maha Sangha.

Prime Minister Wickremesinghe expressed his gratitude to Sheikh Al-Issa for his donation of $ 5 million to assist the victims of the Easter Sunday attacks.