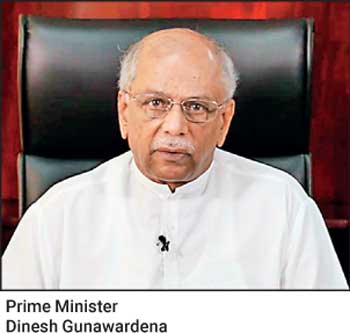 Prime Minister Dinesh Gunawardena earlier this week urged all parties to extend their support to the 2023 Budget, insisting that it has prioritised the introduction of an integrated, planned, and systematic journey towards improving the economy.

"We are a coalition Government while many parties such as the Sri Lanka Podujana Peramuna, the United National Party, the Sri Lanka Freedom Party, the Eelam People's Democratic Party and other parties contributed towards forming it. Thus, we call on all parties to extend support to the coalition government to develop Sri Lanka," he said during a Committee Stage Debate of the second reading of the 2023 Budget yesterday.

Responding to a statement by MP Dr. Harsha de Silva in the House to dissolve Parliament and hold a General Election, the Prime Minister pointed out that a general election cannot be held midterm as per the Constitution. Prime Minister Gunawardena also said that although one-third of the representatives of the United States Senate can be appointed through midterm elections, there is no such provision in Sri Lanka's Constitution.

The Premier urged that such blatant claims should not be made in Parliament as it misleads the public.

Premier Gunawardena also emphasised that the 2023 Budget was presented at a time Sri Lanka is going through an unprecedented economic crisis.