Anura Lewke arrested yesterday, remanded until 13 October
Charged with death of three persons, property damage
Lewke denies claims construction took place without proper authorisation
---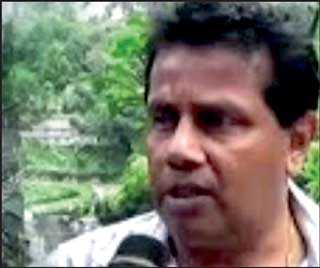 Anura Lewke
---
Anura Lewke, the owner of the five-storey building in Kandy that collapsed recently, killing a family of three, has been remanded until 13 October.
Lewke, the former Basnayake Nilame of Dodanwala Natha Dewalaya, was arrested last morning and produced before the Kandy Magistrate's Court. He is charged for causing the death of three persons and property damage due to negligent construction.

Speaking to the media last week, he denied claims that the house was not built to proper standards, which the authorities claim caused its collapse. The construction of the building took place with proper legal authorisation, he said.

However, the Sri Lanka Police stated that approval was only given for a three-storey building and the foundation of the building was not suitable for a five storey building. Investigations into the incident led to the Police obtaining reports from organisations like the Kandy Municipal Council, Urban Development Authority and the National Building Research Organisation.

The building in Buwelikada, Kandy collapsed on a neighbouring house on 20 September, resulting in the death of two residents and their one-and-half-month old infant.