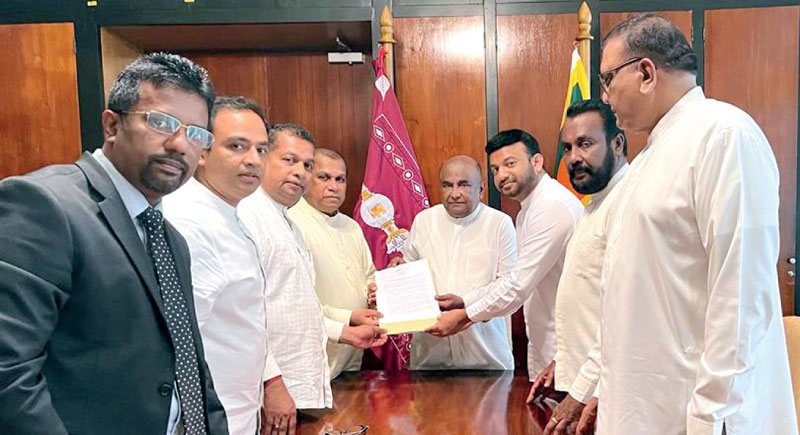 Hands over request to speaker calling on him to take appropriate action against Raheem
Says violation of laws by MPs who help pass them will lead to a breakdown of public trust
Acting Finance Minister Ranjith Siyamabalapitiya denies Govt. is shielding Raheem
SJB MP Sarath Fonseka opposes Raheem's presence in Parliament
---
A group of opposition MPs yesterday handed over a letter to Speaker Mahinda Yapa Abeywardena requesting him to take action against All Ceylon Makkal Congress (ACMC) MP Ali Sabri Raheem who was detained and fined by the Sri Lanka Customs recently for smuggling gold and mobile phones into the country.

In the letter, the MPs noted that Raheem had misused Parliament privileges accorded to MPs and his diplomatic passport to smuggle the undeclared goods via the VIP lounge of the Bandaranaike International Airport (BIA). "He has violated the Parliament-approved Code of Conduct for Members of Parliament in its entirety," he said.

The group stressed that the violation of laws passed in Parliament by the MPs themselves will lead to a breakdown of trust among the public towards MPs of both the Government and the opposition. "It may lead to a situation where the citizens will also refuse to adhere to the country's laws," they said. The MPs, therefore, called on the Speaker to take strict action against the offending MP.

The request was signed by opposition leader Sajith Premadasa, several other MPs of the SJB, Sri Lanka Freedom Party General Secretary Dayasiri Jayasekara, Supreme Lanka Coalition member MP Udaya Gammanpila, MP Vasudeva Nanayakkara and several others.

Raheem was arrested by officers of Sri Lanka Customs on Tuesday at the Bandaranaike International Airport (BIA) while attempting to enter the country with an undeclared haul of gold and other items.

Sri Lanka Customs officials said the arrest of the MP who had arrived on FlyDubai flight FZ 547 was made on a tip-off received. The MP was fined Rs. 7.5 million by the Sri Lanka Customs before being released. However, he has since denied his involvement in the smuggling attempt and claimed a close acquaintance had packed his bag for him.

Meanwhile, State Minister of Finance Ranjith Siyambalapitiya yesterday denied the Government was shielding Raheem. "Some are claiming he was arrested and released quickly. This is not true. He was detained and released according to the Customs Ordinance, which states that if the accused is willing to pay a fine, the case can be closed. If the accused refuses, then steps will be taken to initiate magistrate proceedings," he said. Siyambalapitiya said this was the largest fine imposed for a similar case recently.

However, SJB MP Field Marshal Sarath Fonseka said Raheem and the Government played a political game on Tuesday when the MP voted against the Government in Parliament. "It was merely to pretend and show to the country the Government did not help him to be released soon," the MP said.

"Ali Sabri Raheem who was charged with smuggling gold was made to vote against the Government to show that he was not being protected by them. The MP was made to vote against the resolution as a political game. We vehemently oppose the presence of MP Ali Sabry Raheem in this house after smuggling gold," Field Marshal Fonseka said.