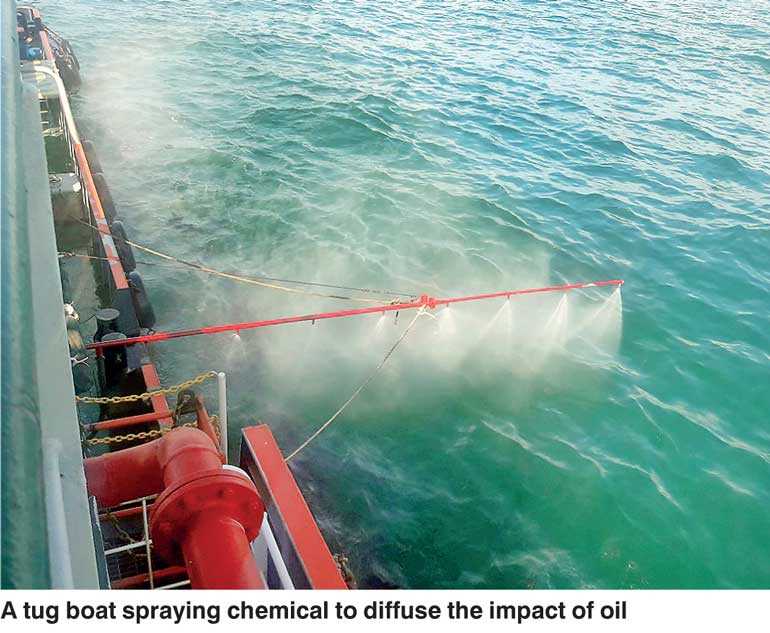 CPC commends the joint efforts of MEPA, the Armed Forces and the Police to contain the oil slick
Ceylon Petroleum Corporation(CPC) said on Friday that as per information of Marine Environment Protection Authority (MEPA), the major oil clean-up operations have been completed on 12 September and small groups are engaged in beach cleaning operations continuously. However, Ceylon Petroleum Storage Terminals Ltd. (CPSTL), MEPA, Coast Guard and Sri Lanka Navy will continue to monitor the developments in the affected area. Ceylon Petroleum Corporation ChairmanDammika Ranatunga said: "The burst in the buoy hose could have occurreddue to rough sea conditions that prevailed on 8 September.However, we are yet to determine the exact reasonfor the rupture and we have requested the Secretary to the Ministry of Petroleum Resources Development to conduct an independent investigation to identify the exact cause. Taking into consideration the possible impact of the oil spill on the environment, we took immediate measures to stop the leakage and informed the relevant authorities to enlist their support in the clean-up effort."

Commenting further, Ranatunga said:"CPC and CPSTL together with the MEPA, Sri Lanka Navy, Air Force, Army, Police, Coast Guard, and the Sri Lanka Ports Authority,immediately joined to manage the spill and over 300 personnelwereon ground tosalvage affected areas. We highly commend their tireless efforts, working around the clock to contain the oil spill and minimise any damage to these areas."

Commenting on the operation to contain and reverse the effects of the oil spill, MEPA Chairman Rear Admiral (Rtd) Rohan Perera said, "We took prompt measures to remove the oil accumulated on the coastal area to minimise damage to the coast environment. Together with the combined resources, we first focused on the area of the spill in Dikkowita and after its successful containment, we completed the operation by securing the Uswetakeiyawa coastal area. I'm thankful to everyone involved in this effort to protect our coastal belt and the environment."

With regard to CPSTL operation, the faulty hose has been removed and replaced and the buoy is in operation now and fuel discharge has re-commenced.