Says party will make Hambantota the fastest-growing district in South Asia
Claims party is now in state of revival despite past attacks and smear campaigns
Expresses displeasure of family being blamed for all misfortunes faced by country
---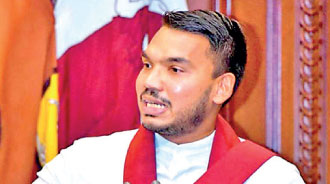 MP Namal Rajapaksa
---
Sri Lanka Podujana Peramuna (SLPP) MP Namal Rajapaksa addressing the party's Tangalle electoral organising meeting yesterday promised to make Sri Lanka South Asia's fastest-growing economy in the near future.

"With a strong Government built in collaboration with our political forces, we will make Sri Lanka's economy the fastest-growing in South Asia once again," he claimed.

Rajapaksa stated that despite numerous attacks and smear campaigns against the party, the SLPP is currently experiencing a revival.

"The party is presently undergoing a process of reconstruction. We faced severe criticism and setbacks in the recent past. We were labelled as thieves. They blamed the Rajapaksas for the misfortunes of the country," he said.

Rajapaksa also assured the attendees that his party would work towards transforming Hambantota into the fastest-growing district in South Asia.

Also addressing the meeting, SLPP MP Johnston Fernando commented on the recent Channel 4 documentary into the 2019 Easter Sunday attacks and alleged links to the Rajapaksa family.

"We are not troubled by these allegations. The documentary serves as a momentary source of entertainment for those who lack the means to challenge the Rajapaksas," he remarked.

He asserted that the Rajapaksas' opponents are in a state of desperation and will grasp onto any opportunity to criticise the family, including events like the Galle Face struggle. "All political parties participated in the Galle Face events with the aim of targeting the Rajapaksas," he said.

Fernando expressed his belief that the next Government and President will come from the SLPP.