Says collection of donations will begin once the period to handover nominations is over
Claims a person has already handed him a till of money collected from the public
Reiterates he has no financial standing to pay Rs. 100 m in compensation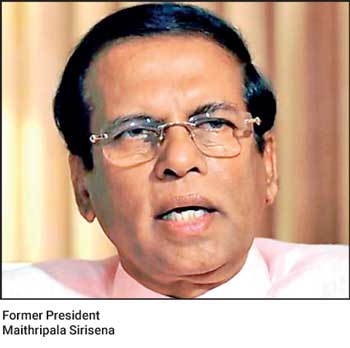 Former President Maithripala Sirisena says he will soon commence collecting donations to pay off the court-ordered Rs. 100 million compensation to Easter Sunday attack victims.

He said the donation drive will commence after the closing of accepting nominations for the upcoming Local Government elections.

According to the former President, he will first start collecting the necessary funds from close confidantes and others in Colombo. Sirisena previously said he will seek assistance from the public as well as friends both in Sri Lanka and abroad to pay off the compensation. He said a person had already handed him a till after collecting money from the public on his behalf.

Holding a press conference on Thursday in Colombo, Sirisena once again stressed that he has no financial standing to pay Rs. 100 million to victims of the attack.

"During my political career I have not engaged in any form of corruption and syphoned off money," he said. According to him, air tickets for foreign tours while President was also funded by various international organisations.

Sirisena claimed during the three decades in Parliament he has only received benefits provided to an MP and has not had any other means of revenue. He said he has submitted details of his assets to both the Election Commission and the Parliament. The former President claimed he has no other land or businesses and said he even built his home in Polonnaruwa through a loan obtained from a bank.

On 11 January, the Supreme Court ordered Sirisena and five other parties to pay millions of rupees in compensation to victims of the Easter Sunday terror attack for failing to prevent the bloodshed which took place on 21 April 2019.