Says he will seek support from the public that loves him and others in SL and abroad to raise required Rs. 100 m
Claims his innocence and says he has now been made liable for the faults of subordinates
Calls for legal reforms allowing respondents of FR cases to present their facts directly in courts
---
By Maneshka Borham
---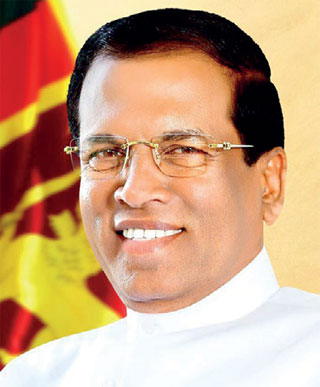 Former President Maithripala Sirisena
---
Former President Maithripala Sirisena says he will seek the support of the public that loves him as well as friends and family to raise funds to pay Rs. 100 million as compensation to the Easter Sunday attack victims.

Addressing the Parliament yesterday, Sirisena said he has no financial standing to pay the court-ordered compensation and will therefore seek support from people as well as sponsors here and abroad.

"I have submitted my assets declaration to Parliament over the past years. I have no financial capability to pay this," he said.

Sirisena claimed he is innocent when it comes to the Easter Sunday attack and has now been made liable as officials under him did not carry out their duty.

"I now have to pay Rs. 100 million not for a fault of my own but for the faults of others," he said.

The former President said he was unable to present his case before the court as only legal counsels are able to present facts before the courts on behalf of the parties in Fundamental Rights petitions. Sirisena said he calls on the Parliament to introduce a legal reform that will allow respondents of FR cases to present their facts before the courts.

Sirisena said he was never informed of an impending attack but he was ordered to pay compensation as it states the President will be held responsible for the failures of his subordinates in carrying out their duties.

"If it did not state as such I will be declared an innocent man," he said.
On Monday, Sirisena also issued a three-page statement commenting on the apex court's decision and the attack. In the statement, Sirisena said: "There is no incident in my life that has affected me as much as the 2019 Easter Sunday attack and I am further shocked due to the social, economic, political and legal consequences that arose with it."

He also said he appreciates the historic judgment for its clarification of the responsibilities of the Minister of Defence and the Executive President. Sirisena in this statement further emphasised that the judgment will undoubtedly establish a better position regarding the regulatory functions and executive powers of future ministers and Presidents.