Highlights how public officials support politicians in illegal and incorrect acts
Blames the Ministry of Finance for all financial irregularities that have occurred in public enterprises
Says action must be taken against misuse of public funds regardless of the perpetrator's status in past or current Govt.
---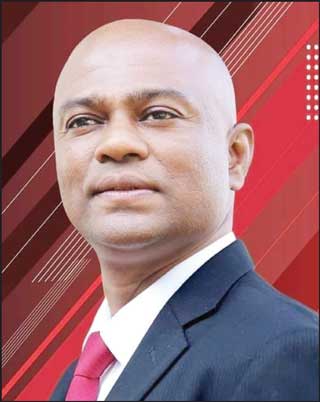 MP Madhura Vithanage
---
Sri Lanka Podujana Peramuna MP Madhura Vithanage gave State officials a dressing down in Parliament on Tuesday, claiming they often facilitate the corrupt actions of those in power. "We come into power for only a period of five years. I have complained to the Secretary to the Ministry of Finance about those who facilitate the corruption of these politicians during that period to then welcome another thereafter only to carry out the same process," he said referring to public sector officials.
Reminding the officials of their responsibility, Vithanage said it is up to them to identify any wrongs being committed in State institutions and set them down the correct path. "But this has not happened in any instance," Vithanage alleged.

"It is the prime responsibility of Government officials to correct any wrong decisions taken by the political authority. They should not be part of the permanent executive and support these acts. This must come to an end," he added.

The MP said the people are suffering today because of incorrect political and administrative decisions taken in the past.

"The innocent people are being forced to bear the losses. Taxes upon taxes have been levied on them. I am asking both the Government and the Opposition to refrain from whitewashing anyone. We must have the charisma and character to oppose any wrong being committed because it is the people who have brought us here," Vithanage said.

The SLPP MP accused officials of the National Medicines Regulatory Authority of facilitating the data being wiped from their systems in 2021, while he also highlighted the concerning expenses of the Central Cultural Fund in the past. The MP blamed the relevant Ministry of Finance and its officials assigned to public enterprises saying they have not carried out their duty.

"If the majority of Government officials carry out their responsibilities there is no room for politicians to carry out illegal acts or make incorrect decisions," he said. The MP said action must be taken against the misuse of public funds regardless of whether the perpetrators were part of either the past or present Government.