By Asiri Fernando
---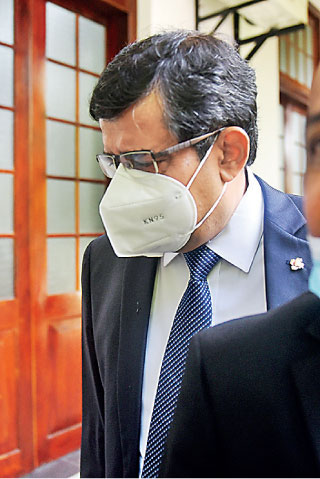 Arjuna Hettiarachchi - Pic by Pradeep Pathirana
---
The Colombo High Court yesterday granted bail to the chairman of the local shipping agent representing the wrecked container vessel, the MV X-Press Pearl. The suspect, Arjuna Hettiarachchi, was granted bail on a cash bond of Rs. 100,000 and two personal bonds of Rs. 1 million each.

The Colombo High Court also ordered Hettiarachchi to surrender his passport to the courts and issued a travel order against him. The controller of immigration and emigration, and all sea and airports were notified of the decision.

The Chairman of Sea Consortium Lanka Ltd. was produced before the Colombo High Court following his arrest by the Criminal Investigation Department (CID). The CID is investigating what experts have called "possibly the worse maritime environmental disaster the nation has faced to date". Hettiarachchi has been charged under the Marine Pollution Protection Act, the Police said.

According to Police Spokesman DIG Ajith Rohana, CID investigations have thus far indicated that Sea Consortium Lanka had acted negligently regarding the MV X-Press Pearl incident. The CID has viewed communications between the Singaporean flagged fire-stricken vessel, its operator X-Press Feeders (also based in Singapore) and their local agents, Sea Consortium Lanka.

Last week prosecutors told the court that there were discrepancies in the e-mail communication logs between the local agent, the MV X-Press Pearl's Captain and the vessel's operator. The court also ordered Sea Consortium Lanka to provide investigators access to a data server based overseas.

Police suspect that the agents deleted several e-mails that were exchanged with the vessel's Captain. The deleted e-mail correspondence is vital to the investigation of the incident.

Three UN-affiliated experts were expected to arrive in Colombo yesterday to support Government efforts to quantify the impact of the disaster. The Marine Environment Protection Authority (MEPA) continues to test seawater samples from the wreck, 10 nautical miles off the Colombo Port, as suspicion of a possible oil leak grows. According to MEPA, there has not been an oil leak as of last evening.

State Minister of Urban Development and Coast Conservation Dr. Nalaka Godahewa told the press on Tuesday (15 June) that the salvors appointed by the operators of the wrecked vessel have advised the Government that the removal of the vessel should be undertaken in calmer sea conditions, after the monsoon season.