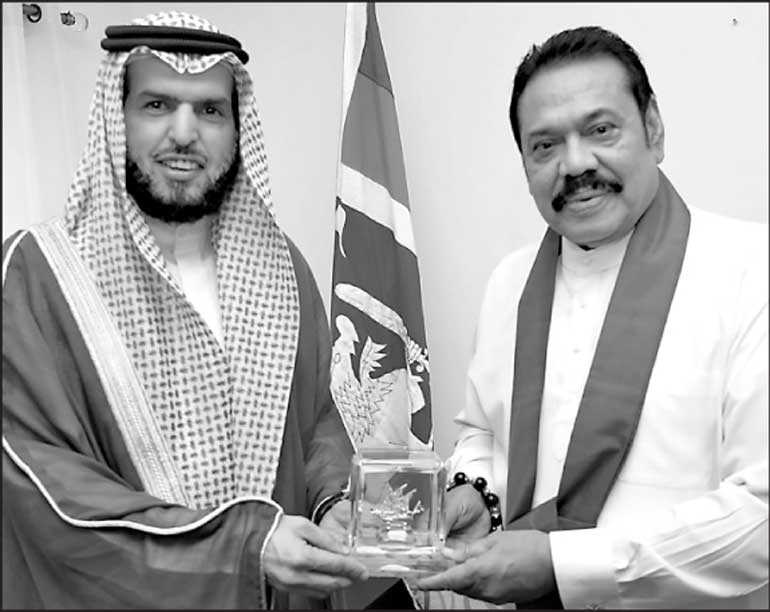 Opposition Leader Mahinda Rajapaksa yesterday requested that the safety of female housemaids be improved when he met with the Kuwait parliamentary friendship group at the Opposition Leader's Office. The three-member Kuwait parliamentary friendship group was led by Prof. Adel J. A. M. Al-Damkhi while MP Nayaf Abdulaziz M. Alajmy and MP Abdullah F. H. F. A. Alenezi were also part of the delegation.

During the meeting, Prof. Al-Damkhi congratulated Mahinda Rajapaksa for been appointed as the Opposition Leader. Prof. Al-Damkhi noted strengthening long-lasting friendship between the two nations has been the main purpose of this visit. Opposition Leader Mahinda Rajapaksa called on the delegation to improve the level of safety of female Sri Lankan migrant workers in Kuwait.

In response to Rajapaksa's request, Prof. Al-Damkhi pointed out that compared to other nations, Sri Lankan migrant workers had been law obedient, while assuring the safety of Sri Lanka migrant workers.

Rajapaksa also requested an increase in the number of Sri Lankan engineers and technicians recruited to the Kuwait oil refinery sector. According to the Sri Lanka Bureau of Foreign Employment (SLBFE) data, 37,420 workers had found jobs in Kuwait, out of which 23,655 were housemaids. SLBFE data revealed that only 121 jobs came under the professional level. SLBFE surveys revealed in the year 2017, female departures had decreased by 11.7% when compared to 2016 (a decrease of 9,609 females), while the decrease for males was 13.1% in 2017 (a decrease of 21,035 male migrants compared to 2016).