Calls for assurances that he will not back federalism
Claims SP attempting to mislead public by refraining from using the term unitary state
Opposition leader Mahinda Rajapaksa yesterday alleged that New Democratic Front (DNF) presidential candidate Sajith Premadasa was attempting to mislead the public into thinking that he was backing a unitary state even though his manifesto used the term 'undivided and indivisible State', which was also proposed during the initial discussions previously held by the Government over a new Constitution.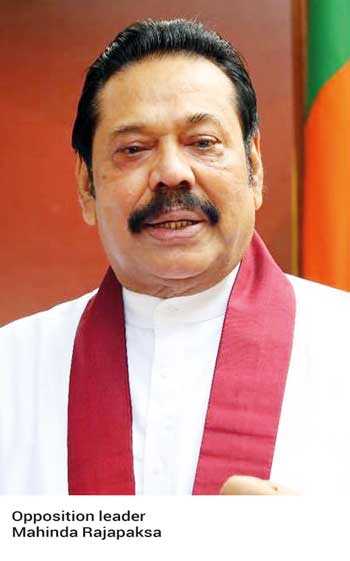 In a statement, Rajapaksa said that even though the DNF manifesto was presented with much fanfare to the Mahanayake and Anunayake Theros, it included provisions to dismantle the unitary state and to create a federal state in its place.

"Regardless of the contents of the manifesto that has already been released, I earnestly request the Venerable Mahanayake Theras of the three Nikayas to obtain from the UNP candidate a written pledge to uphold the unitary state, to oppose federalism and to oppose all the proposals contained in the draft Constitution tabled in Parliament by the Prime Minister earlier this year," the statement said.

He went on to state that the DNF presidential candidate's manifesto contained provisions to replace the unitary state with a configuration that describes Sri Lanka as an 'undivided and indivisible State'.

"This is accompanied by the pledge that governmental power will be devolved to the provinces to the 'maximum extent possible'. Identical provisions can be seen in the draft Constitution tabled in Parliament by the Prime Minister in January this year." However, the Government has continuously maintained that no draft of the proposed Constitution was made and what was presented to Parliament were the proposals prepared and finally used by the Constitutional Council.

"The UNP manifesto also contains provisions to expand the powers and functions of the provincial councils, to set up a second chamber in Parliament made up of provincial council representatives in order to curb the powers of Parliament, to allow the provincial units to raise funds independently, to place district and divisional secretaries under the provincial councils and to create a Constitutional Court which will adjudicate disputes between the center and the provincial units. Like the draft Constitution, the UNP Presidential Election manifesto also aims to turn Sri Lanka into a loose federation of virtually independent provincial units," the statement claimed.