SLPP officially launches its election campaign following after opening MR's election office in Kurunegala
Says 19A was brought in to take personal revenge
Affirms President and ruling party should be from the same political party
---
By Nuwan Senarathna
---
Prime Minister Mahinda Rajapaksa yesterday expressed confidence of the Sri Lanka Podujana Peramuna (SLPP) mustering a two-thirds majority at the upcoming General Election, adding that the parliamentary majority was needed to repeal the 19th Amendment (19A) to the Constitution.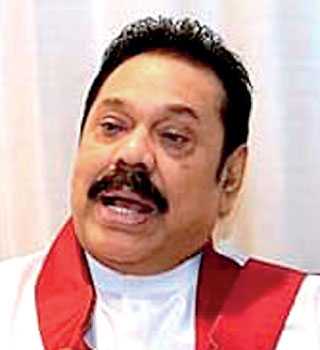 Prime Minister Mahinda Rajapaksa
---
He made these remarks at public event held in Wariyapola after officially launching his campaign.

The SLPP yesterday officially launched its election campaign and declared open Prime Minister Mahinda Rajapaksa's election office in Kurunegala as the SLPP prime ministerial candidate.

Rajapaksa reiterated that the majority at the Parliament was necessary not to enjoy privileges, but to serve the public in an efficient manner.

He noted a two-thirds majority is required to repeal the 19A, adding that many of the issues faced by the country and the main reason for the failure of the previous administration was 19A.

"19A was brought in to take personal revenge. This Constitution has become a joke; therefore, I believe it needs to be repealed to address its shortcomings. This is why those who brought 19A acknowledged themselves that it needs to be repealed, which proves it was not brought in with good faith," he said.

The Prime Minister assured that they would repeal 19A to address its shortcomings, which led to controversies during the previous administration. He noted a strong government was needed to enable President Gotabaya Rajapaksa to continue his policy statement 'Vistas of Prosperity and Splendour'.

"We have seen what happened during the past five years. The economy was not performing well and the unemployment rate increased. The main reason for that was the Government didn't have a proper economic direction, and the President and the Prime Minister were from two different political parties with different ideologies," he added.

According to the SLPP prime ministerial candidate, the President and the Government should hold similar ideologies, therefore, the political party that represents the President should be the ruling party.

He expressed confidence in the leadership of President Gotabaya Rajapaksa, noting that he would be able to successfully address economic challenges in unemployment while accelerating economic development.

Commenting on candidates, Prime Minister Rajapaksa said the nominations were given to the best-suited candidates in every district.

He also said every SLPP candidate was well-aware of the grassroots-level issues, which would be crucial for implementing development projects to address issues of their respective districts.