Habitat for Humanity Sri Lanka, an international non-profit organisation dedicated towards providing every family in Sri Lanka with a safe and stable place to call home, appointed Lakshan Madurasinghe as its Goodwill Ambassador.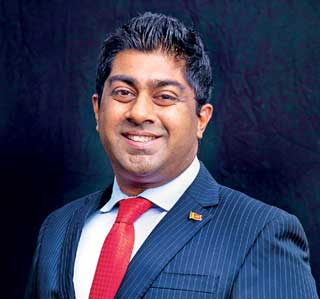 Lakshan Madurasinghe


The announcement significantly took place on 4 October, widely known as 'World Habitat Day' – a global day of reflecting on the state of human settlements and the basic right of all to adequate shelter.

Madurasinghe is the Regional Lead for Public Affairs, Communications and Sustainability for Coca-Cola in Sri Lanka, Maldives, Nepal and Bhutan and is also the present President of the Board of the American Chamber of Commerce in Sri Lanka.

Lakshan Madurasinghe is no stranger to Habitat for Humanity Sri Lanka, as he has previously served as a member of the National Board of Directors of Habitat Sri Lanka from 2009-2018 and also served as the President of the Board of Directors from 2016-2018.

His unique journey with Habitat for Humanity, started with him joining Habitat's tsunami relief efforts in 2005 as a volunteer; which led to over a decade long partnership with Habitat Sri Lanka. That single experience fuelled a deep love for volunteering within him, that he has since then shared with countless colleagues, friends, donors and communities.

Through his role as a Goodwill Ambassador, Madurasinghe will continue his efforts in helping Habitat for Humanity Sri Lanka to raise awareness about the need for affordable housing for all, and raise essential financial resources enabling Habitat Sri Lanka to create a bigger impact through its work across the country.

Speaking at the event, Madurasinghe commented, "On World Habitat Day, I am truly honoured and greatly privileged to be appointed as the Goodwill Ambassador of Habitat for Humanity in Sri Lanka. I fervently believe that everyone in Sri Lanka deserves a safe, stable, and secure place to call home as it is a basic human right. We have a responsibility to make this a reality and ensure that no one is left behind in Sri Lanka. For over 27 years, Habitat has dedicated itself to this mission of bringing people together to build homes, communities and hope. I'm truly proud to be part of this life changing mission as providing a home reaps a generational blessing. Every hand and partnership can make a difference."

Since 1994, Habitat for Humanity Sri Lanka has assisted more than 27,118 families by building and improving homes, providing access to safe drinking water and adequate sanitation facilities and by providing training and access to resources to help families improve their shelter conditions.