Text and picture

by P.D. De Silva

Centre for Policy Alternatives (CPA) Executive Director and Centre for Monitoring Election Violence (CMEV) Co-Convener Dr. Paikiasothy Saravanamuttu, warned that the 9 March LG poll (if held), may turn violent as political parties were fighting for their survival.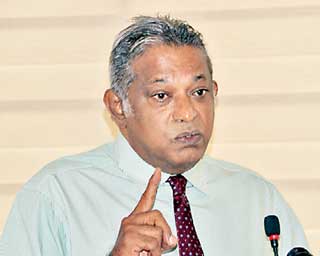 CPA Executive Director

Dr. Paikiayasothi Saravanamuttu
He said that there was doubt whether the election would be held on schedule or whether it would be postponed by a few months or even indefinitely as the results of the election may be considered as a referendum.
Dr. Saravanamuttu sounded this warning at the conference on Campaign Finance Regulations convened by the CMEV and Transparency International Sri Lanka (TISL) which was held last Thursday (26).

He recalled that once when he asked former President Mahinda Rajapaksa about campaign and party finances, his reply was "I am not going to tell you the whole story, I cannot tell you the whole story and I will not tell you the whole story".

The Campaign Finance Regulation Act became law last Tuesday (24) and Dr. Saravanamuttu pointed out that the former President's quip highlighted the challenges of collecting information on exactly how much money is actually being used. "It is important that the public should know whether it is cash or kind, where the money comes from and that the information be made available to the public."

He reiterated that an election is the most basic process of choice and change and therefore should be above suspicion. "There should be no threats to its integrity and there should be no compromise on the transparency and accountability of the process. The result could be debated but the process needs to be free, fair and transparent and there cannot be any variations," Dr. Saravanamuttu stressed.