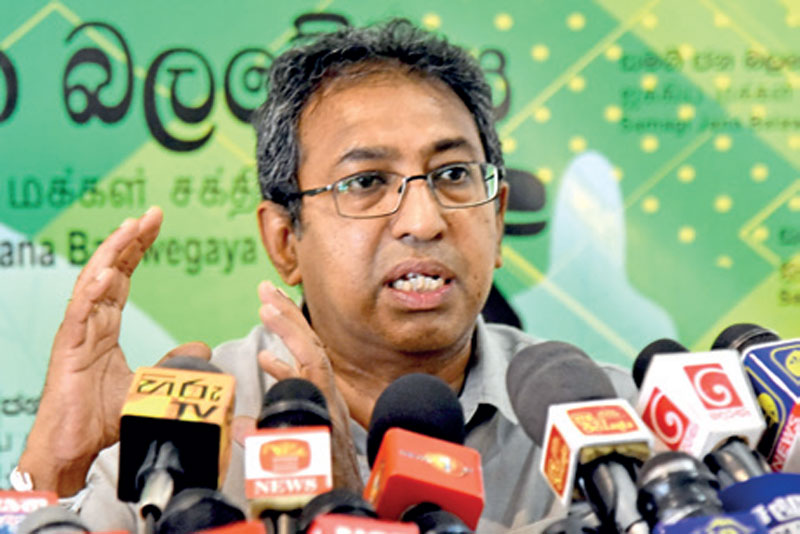 SJB MP Dr. Harsha de Silva gestures during the media briefing yesterday – Pic by Lasantha Kumara
---
SJB Treasurer Dr. Harsha de Silva opines if UNP-SLPP fail to secure victory then they no longer have a mandate to rule
Says SJB committed to fully implement 13th Amendment
Other parties forming coalitions to win election, not push policy
---
By Darshana Abayasingha
---
Main Opposition the Samagi Jana Balawegaya (SJB) yesterday declared that the upcoming Local Government (LG) Election serves as a referendum of whether the public confidence remains with the current Government or not.

"If the UNP and SLPP fail to secure victory, then they no longer have a mandate to rule," SJB Treasurer and MP Dr. Harsha de Silva told journalists yesterday.

Noting that the Elections Commission has fixed the LG polls for 9 March, the MP expressed hope the Government will not try to scuttle the process.

"People must be given the opportunity to choose who they wish to govern them in the local councils. Obviously if the ruling party wins, then that means they have a mandate from the people to continue. If that is not obtained then it is obvious, they don't have the confidence of the people. This is much more than fixing culverts and the collection of garbage. It is almost a referendum of what people are thinking," he said.

The Colombo District MP also said his party is fully geared to take on the local polls, and added the SJB is committed to establish a social market economy in Sri Lanka and connect the nation to the rest of the world. He remarked the party is committed to implement the 13th Amendment to the fullest, and offers people a balanced option.

"We are an inclusive party and we have one game plan. Markets must be allowed to work, but alongside economic liberalisation there must be equity and justice. This is what makes us different. There must be greater ease of doing business and investors must have confidence there is a Government in place with a clear vision for the country."

De Silva claimed other parties have no clear strategy for the development of the nation, and are busy forming alliances with one party today, and then another party the next. They are simply coming together to try to win the election; they have no clear-cut policy for the country, he said.