---
Says he will run only on pledge that Executive Presidency is abolished within time limit
Says clergy and other organisations have asked him to take up candidacy
Will run with support of UNF'[s constituent parties
Statement came hours after UNP Dep. Leader reiterated call to be named candidate
Speaker Karu Jayasuriya yesterday indicated his willingness to be the United National Front (UNF) candidate for the upcoming Presidential Election, saying he would run only on the assurance that the Executive Presidency would be abolished within a fixed time frame.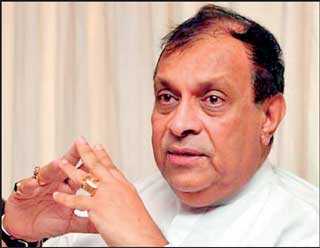 Speaker Karu Jayasuriya


"I can consider running for the office of President based on our Party's pledge since 1995 to abolish the Executive Presidency. My intention is to abolish the Executive Presidency within a limited period of time. I am not coming forward in in expectation of serving in the post of President, "Jayasuriya said in a statement released yesterday.

It's the first official intimation from Jayasuriya that he would take up the candidacy of the UNF, and came hours after the UNP's Deputy Leader Sajith Premadasa reiterated that he wants to be the UNF candidate.

While Premadasa was non-committal on the abolishing of the Executive Presidency, Jayasuriya made it clear that it would the main issue on which he would campaign if named candidate.

The Speaker said that in the past few weeks, members of the clergy, civil society organisations, members of the university academia, as well as youth organisations, have been prompting him to accept the post of the UNF 's presidential candidate.

"Some have met me personally, while some have spoken to me on the telephone, and some have addressed me through the media, asking me to come forward as a candidate at the Presidential Election to address a few specific issues. They are keen to ensure that democracy is further consolidated in the country and that a principled society is built." In the statement, the Speaker thanked members of the clergy as well as others who have put their faith in him, but laid down a major caveat to his decision to contest.

"Any prospect of my accepting a nomination to contest as a presidential candidate would be conditioned upon the support of all forces united behind the critical objective of abolishing the Executive Presidency, which has been the objective of civil society since 1995," Jayasuriya said in his statement.

He added that democratic reforms, first brought forward by the 17th Amendment to the Constitution, and thereafter strengthened by the 19th Amendment, must be safeguarded, and form the basis for broader constitutional reform. The Speaker also indicated that he would only serve in the office of President for a limited period of time, to complete constitutional reforms.

"I must emphasise that I would not accept such an offer out of a desire for the powers of the Presidency. I would only serve in office for such a limited period as is necessary to complete the constitutional reforms that we promise, in order to lay the foundations for a secure, prosperous, and advanced democracy," the statement said.

The statement emphasised that if Jayasuriya was to come forward as candidate, representing the UNF, it should be in accordance with the UNP constitution, and with the blessings of all parties concerned.