Raises serious concerns on the conduct of NPC Chairman and a member for being part of Basil Rajapaksa's welcoming party recently
Says actions are clear proof of support and patronage of a particular political leader
Calls on parliament to take action against the duo
Justice Minister assures new and independent members will be appointed to all commissions
---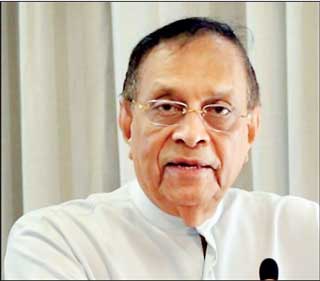 Karu Jayasuriya
---
The National Movement for Social Justice (NMSJ( says the chairman of the National Police Commission (NPC) Chandra Fernando and member M.P.P. Perera have caused an insult to the country's constitution by being part of Basil Rajapaksa's welcoming party on 20 November.
Fernando, who is also a former Inspector General of Police along with Perera was seen in video footage welcoming Rajapaksa along with other Sri Lanka Podujana Peramuna politicians and supporters.

The NMSJ led by its chairman, former speaker Karu Jayasuriya in a statement said the parliament must take note of their conduct immediately.

"The expectation in transforming all commissions into independent commissions including the NPC was that each of these institutions representing their respective fields was freed from politicisation. Accordingly, all members appointed to the commissions have been assigned this responsibility through the provisions of the Constitution of Sri Lanka." the statement said.

The organisation noted that however, the conduct of Fernando and Perera in welcoming Rajapaksa, the national organiser of the SLPP is clear proof of support and patronage of a particular political party leader.

"As a result of their behaviour, doubts have now arisen among the general public about certain decisions and measures taken by the NPC in the recent past. Therefore the actions of the two NPC officials have now managed to discredit the independence of the commission. In turn, the duo have also insulted the parliament of Sri Lanka which established independent commissions in the country." the organisation said.

The NMSJ called on the parliament to take immediate action against the two if they fail to step down from their positions in the current situation.

In a related development Justice Minister Dr Wijeyadasa Rajapakshe attending the cabinet press briefing held yesterday said steps are being taken to appoint new and independent members to commissions.

"That is why I introduced the 21st amendment to appoint independent persons instead of persons who are loyal to politicians. Now we are making arrangements to appoint new persons as independent commissioners," he added.