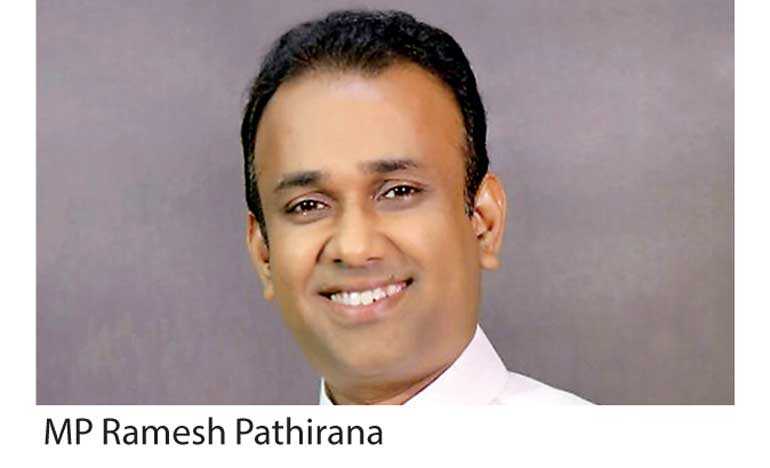 By Nuwan Senarathna

The Joint Opposition yesterday called for Provincial Council elections to be held to prevent collapse of democracy in the country.

Provincial Councils of the North Central and Sabaragamuwa Provinces expired a year ago, and the official terms of the Northern Provincial Council are also close to an end, MP Ramesh Pathirana said, addressing a press briefing held in Colombo.

He claimed that unknown to President Maithripala Sirisena and Prime Minister Ranil Wickremesinghe, a hidden hand is at work to delay the election. The Minister of Provincial Councils, Local Government and Sports Faiszer Musthaphais not interested in holding the elections, and is not working towards it, the MP said.

"Even countries like Syria, which are gripped by war, have held their elections on time, but Sri Lanka is opposite of it. During the previous regime, we managed to hold elections on time. The former President held the election in the Northern Provincial Council soon after the Civil War," he added.

He said the coalition Government is violating the democratic rights of the people to elect their members to the Provincial Council. The current economic situation directly affects the people, a clear indication of the management of the Government,"he said.

"While Government delaying elections,the economy has also gone down.This is one the biggest concernsof the public. The previous regime carried out more welfare programs while developing the nation, but this Government failed to do any of that," he added.

He also went on to sayformer President Mahinda Rajapaksa is the only person who is capable enough tohandlethe issues the country is facing at the moment and bring stability to the economy.
MR's Indian visit opens new chapter in bilateral relations between two countries: JO
The Joint Opposition (JO) yesterday claimed that former President Mahinda Rajapaksa's recent visit to India had opened a new chapter in bilateral ties between the two nations.

The visit led to a refreshment of Indo-Sri Lanka friendship which benefits the people of Sri Lanka and its economy, MP Ramesh Pathirana told reporters at a media briefing held at the Dr. N.M. Perera Center in Borella.

He said that during the visit former president Rajapaksa had managed to overcome misunderstandings which would lead to a fresh start for the future of Sri Lanka.

"With this new friendship we will be able to create strong connections within the South Asian region for a better future. I hope we can expand bilateral ties to vast areas and gain more benefits to boost the economy," he added.

He hinted that the former President needed to improve the bilateral ties between China in order to face emerging challenges in the global arena.

"Only Mahinda Rajapaksa has the vision to develop Sri Lanka as a globally recognised economic hub, therefore we must form a new government with the leadership of Mahinda Rajapaksa," he added.

He also accepted that the Rajapaksa regime did not have a strong bilateral relationship with India which arose due to various political reasons. (NS)